Choosing a floor covering for your sitting room
The flooring in any room will play a key role in creating the atmosphere we wish to project.
13 December 2017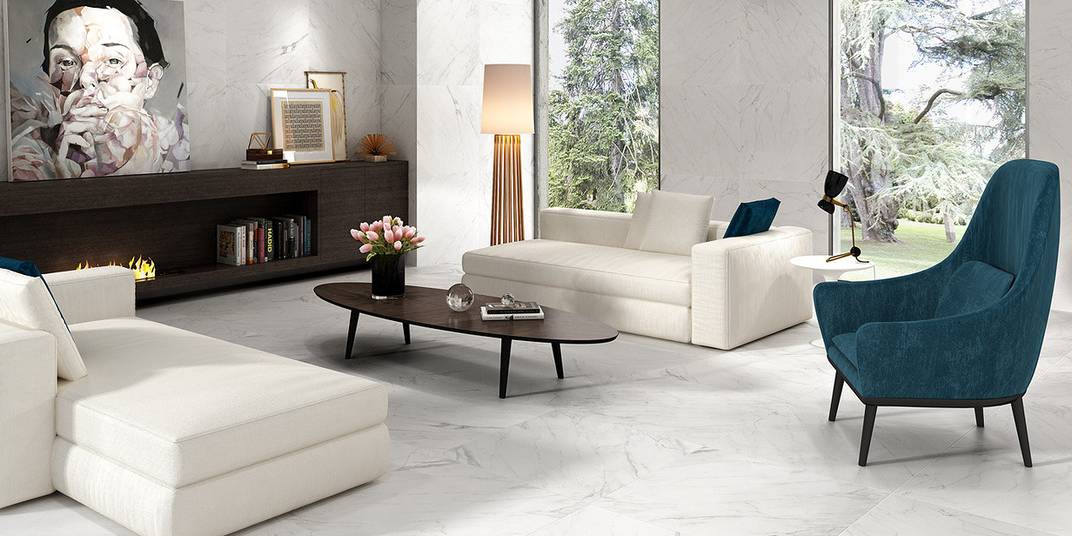 The sitting room is one of those spaces where we tend to spend long periods of time, and therefore the choice of flooring is an important decision that requires considerable thought and attention to a number of factors:
How much traffic will the area have?
Are there changes in temperature or humidity?
Whatever kind of style we wish to create in our sitting room, ceramic floor tiles are always the perfect solution as they are available in countless finishes that will blend in with the desired atmosphere. The decorative options are endless if we combine this type of flooring with ceramic wall tiles featuring stone, brick or cement effects, etc. They are also an excellent choice for average to high traffic areas.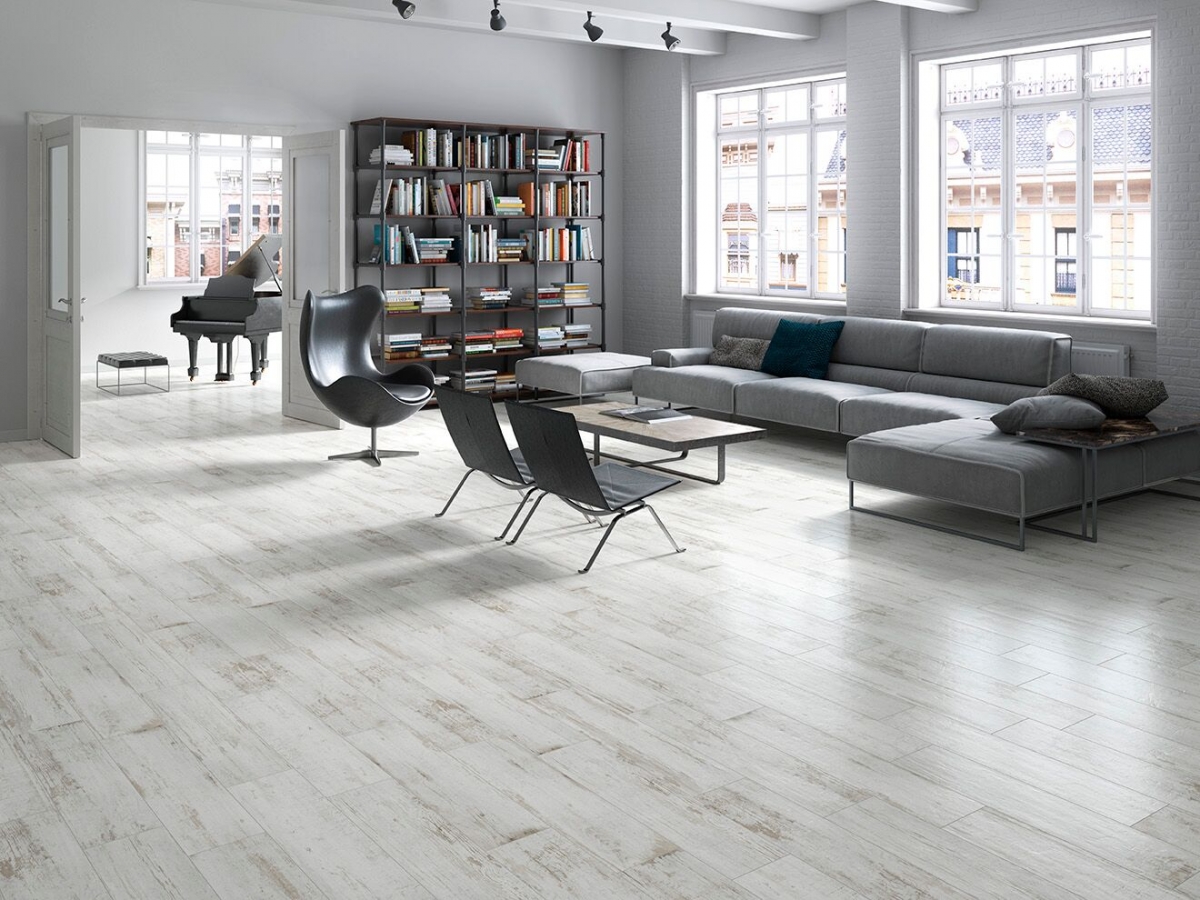 So what makes porcelain floor tiles the ideal choice for our sitting room? First of all, they are extremely resistant to humidity and temperature changes (in some areas this is a vital consideration, as wood is unable to withstand these changes and certain types of stone are likely to crack). Porcelain floor tiles are also long-lasting and have a low degree of porosity and absorption. As for their decorative potential, there is a wide choice of finishes, making for multiple decorative trends. They are highly versatile floor coverings that can be used in all types of rooms. Porcelain floor tiles are also compatible with radiant floor heating and cooling systems. And last but not least, they are also extremely easy to care for and clean.
Let's take a look at three types of porcelain floor tiles guaranteed to create a stylish sitting room setting:
A) Wood-effect floor tiles.
Ideal for spaces where the aim is to connect directly with a natural atmosphere, ranging from minimalist contemporary spaces to more classic settings. Wood-effect finishes are highly versatile, and therefore feature in numerous collections: Village by Keraben, Wood66 by Metropol or Autumn byCasaInfinita are just three of the many examples. Why not enjoy the warmth of wood-effect tiles if you can take your pick from the countless choice of finishes and tones?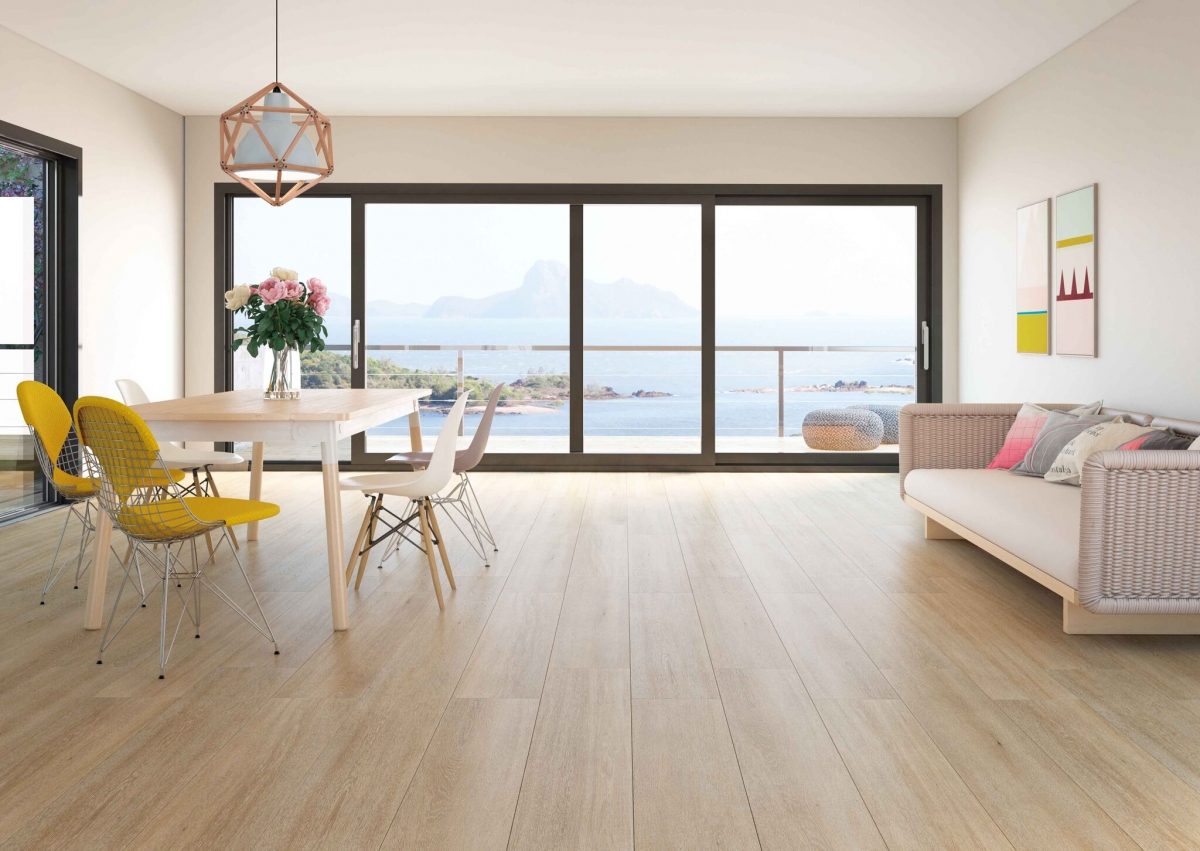 B) Cement-effect floor tiles
Cement: One of the major trends of the last few years continues to top the style stakes for 2017-2018. Grey is one of the season's hottest colours. Cement inspired finishes evoke an industrial atmosphere and cutting-edge contemporary design characterised by open spaces, the use of metal and avant-garde furniture. If this is the decorative option you are looking for, then you will be inspired by collections such as In Time by CasaInfinita, Inspired by Metropol or Groove by Keraben.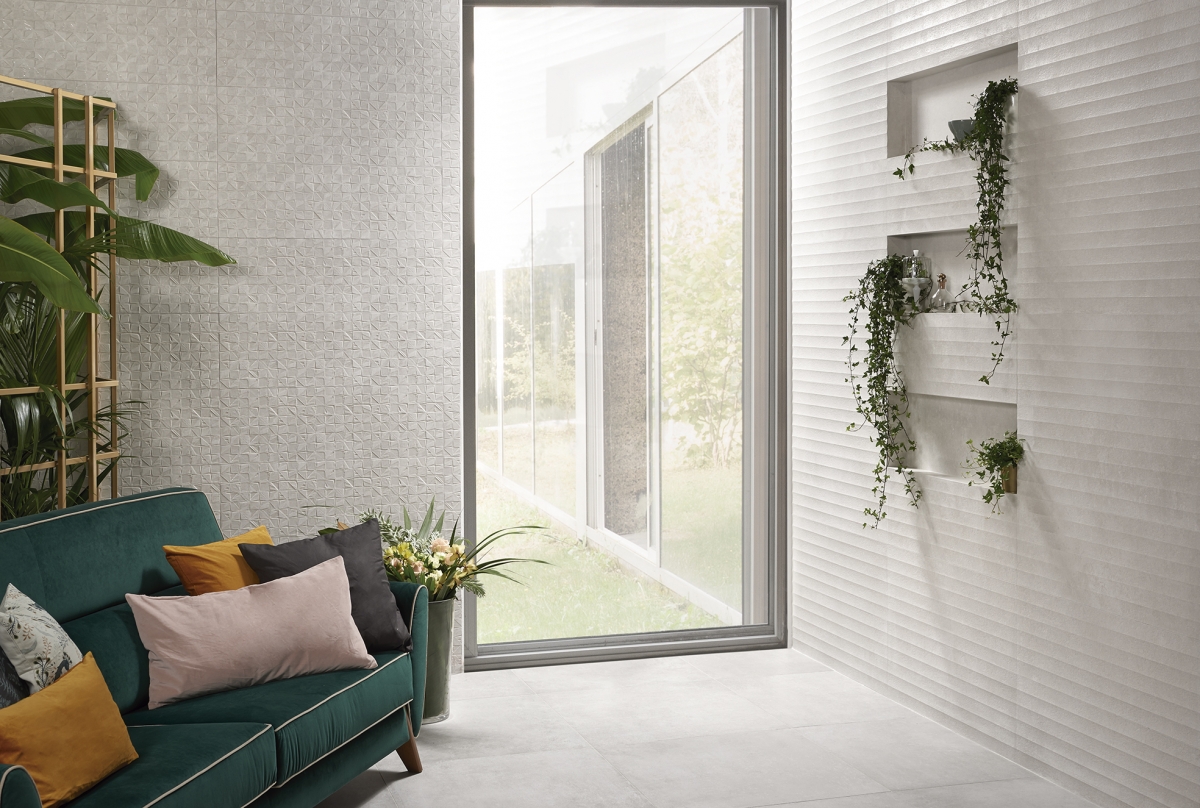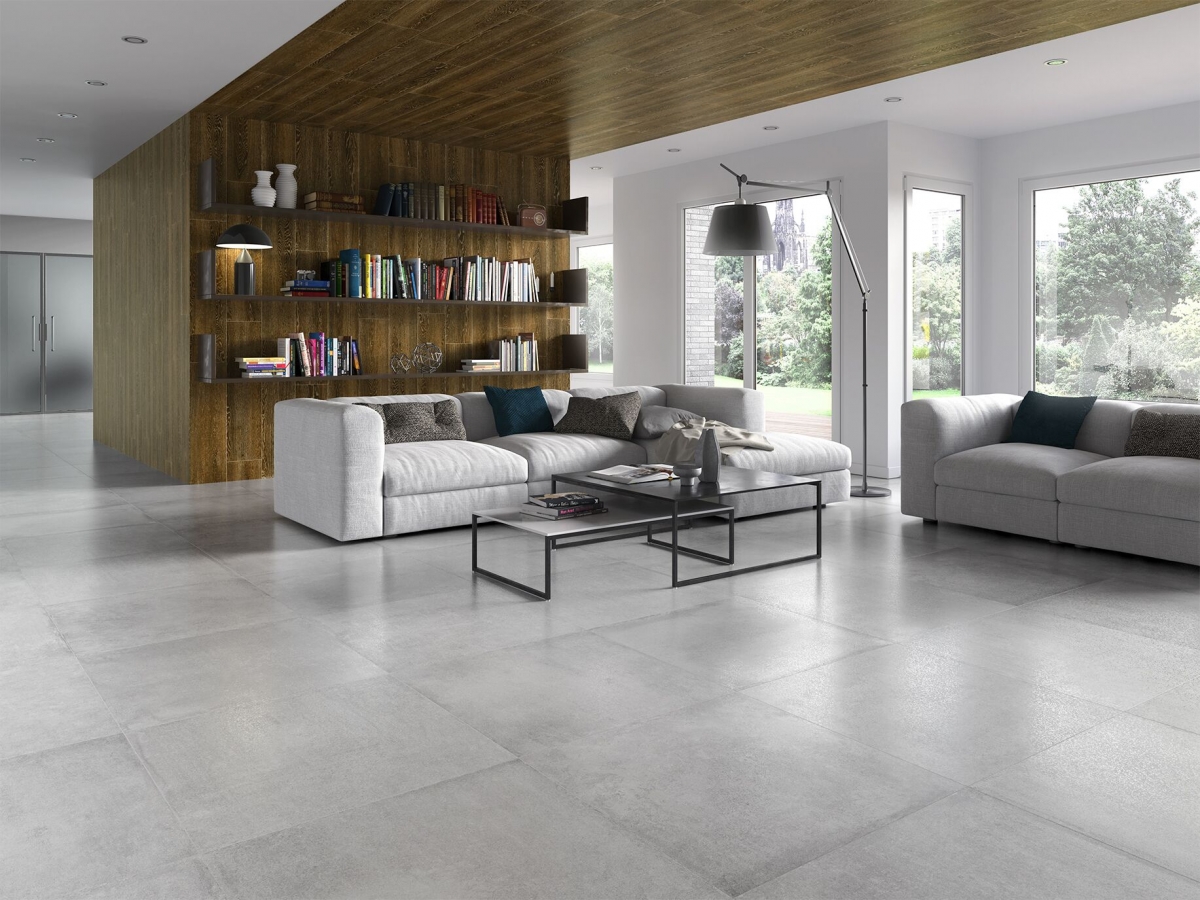 In Time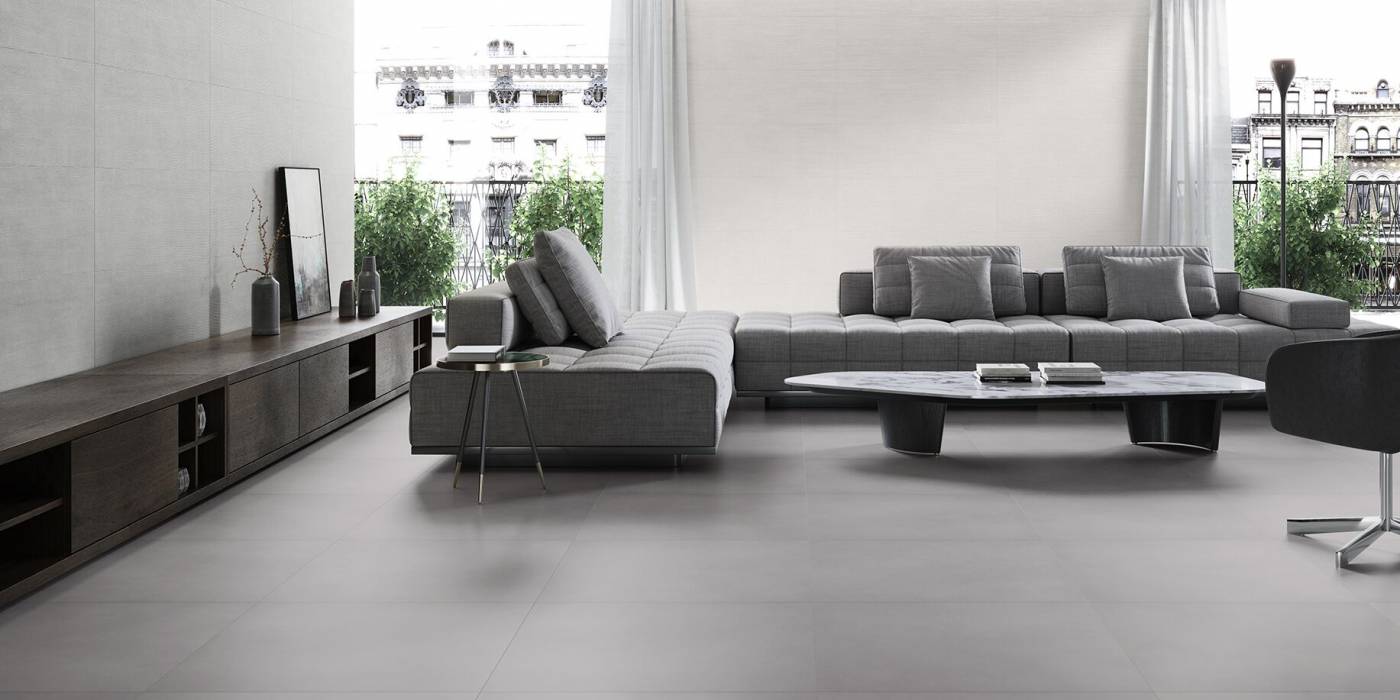 Groove by Keraben
C) Stone-effect floor tiles
For a more classic look that harks back to the traditional stone floors, we can choose from the wide range of stone-effect collections that include quintessentially natural slate or exquisite marble effects, as well as limestone and quartz. This type of floor tiles is perfect for creating a more traditional setting and showcasing more elaborate furniture. Alternatively, they can be used for spaces that require a sharp mix of contrasting styles. Marbleous by Metropol is one of our new collections that takes the essence of marble and adds a bold contemporary twist. Another option is the (slate-effect) Terranova by CasaInfinita collection, whilst Brancato by Keraben will also provide just the stone-effect solution you are looking for.