Outdoor paving: Types, advantages and disadvantages
It's open air time. It's time to enjoy the summer in swimming pools, terraces and gardens, very busy areas with a lot of wear and tear that require resistant and safe materials.
2 August 2020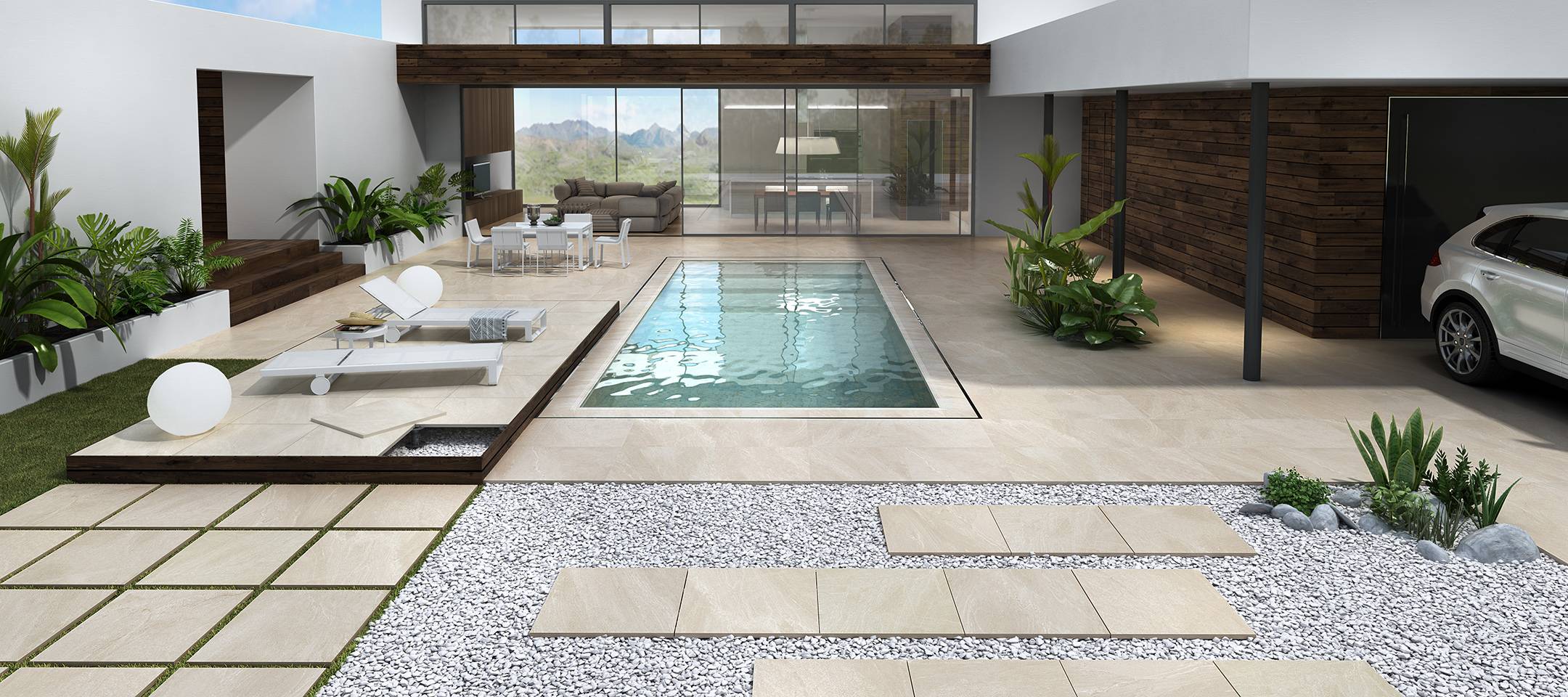 Water, sun and air are the winning combination for the summer months, but these elements affect materials installed outside. Therefore, when deciding what type of paving to use in these areas, it is very important to know the advantages and disadvantages of each type.

Outdoor floors must have certain inbuilt characteristics. In addition to resisting high temperatures and other inclement weather, such as frost, it is very important that they meet other requirements, such as the fact that the floor is anti-slip, as these are areas where water and the way we walk can cause falls due to slipping.

Another essential issue to consider is maintenance, the cost and effort of which can vary greatly depending on the type of material used.

It is also important to think carefully about the colour of the floor, as light colours reflect too much light and dirt is very noticeable, while dark colours absorb heat and overheat. So, it is ideal to opt for intermediate or neutral colours, such as grey or beige.

All these factors, together with the aesthetic result, make ceramic the perfect solution for terraces and outdoor spaces. Although there are many other materials that could be placed in these areas, all of them have some type of drawback. These are the advantages and disadvantages of each.



Wood

Wood is warm and comfortable. There are different types of wood for outdoor flooring. Pine wood is the most economical, but it has many problems due to its high absorption. Tropical woods are the most suitable for the outdoors, as they are better able to withstand humidity. Wooden floors for exteriors are one of the most decorative options. However, as it is a living material that changes its appearance over time, to maintain it you must periodically apply protective treatments.

Inconveniences: The maintenance cost of wood is very high. Wooden floors must be treated with specific products at least twice a year, in addition to being regularly scrubbed with water and neutral soap. Using a high-pressure cleaner or abrasive cleaners is not recommended. It is a material that is very vulnerable to the weather, especially humidity, and its installation is more complicated than that of other types of flooring. It tends to lose colour over time.



Porcelain

Ceramicis a practical and aesthetic solution for outdoor flooring. It is resistant toclimatic aggressions and durable against wear and tear, the passage of time,humidity and temperature changes. Porcelain is one of the most resistant materials for intensive and outdooruse and its maintenance is very simple. The verynature of ceramics makes it the most suitable solution for exterior floors, asit has a minimal porosity that means it does not absorb humidity, as well asbeing highly resistant to knocks and scratches. Keraben Group offers a multitude of designs forexterior floor coverings, such as simulatedwood, stone or polished cement.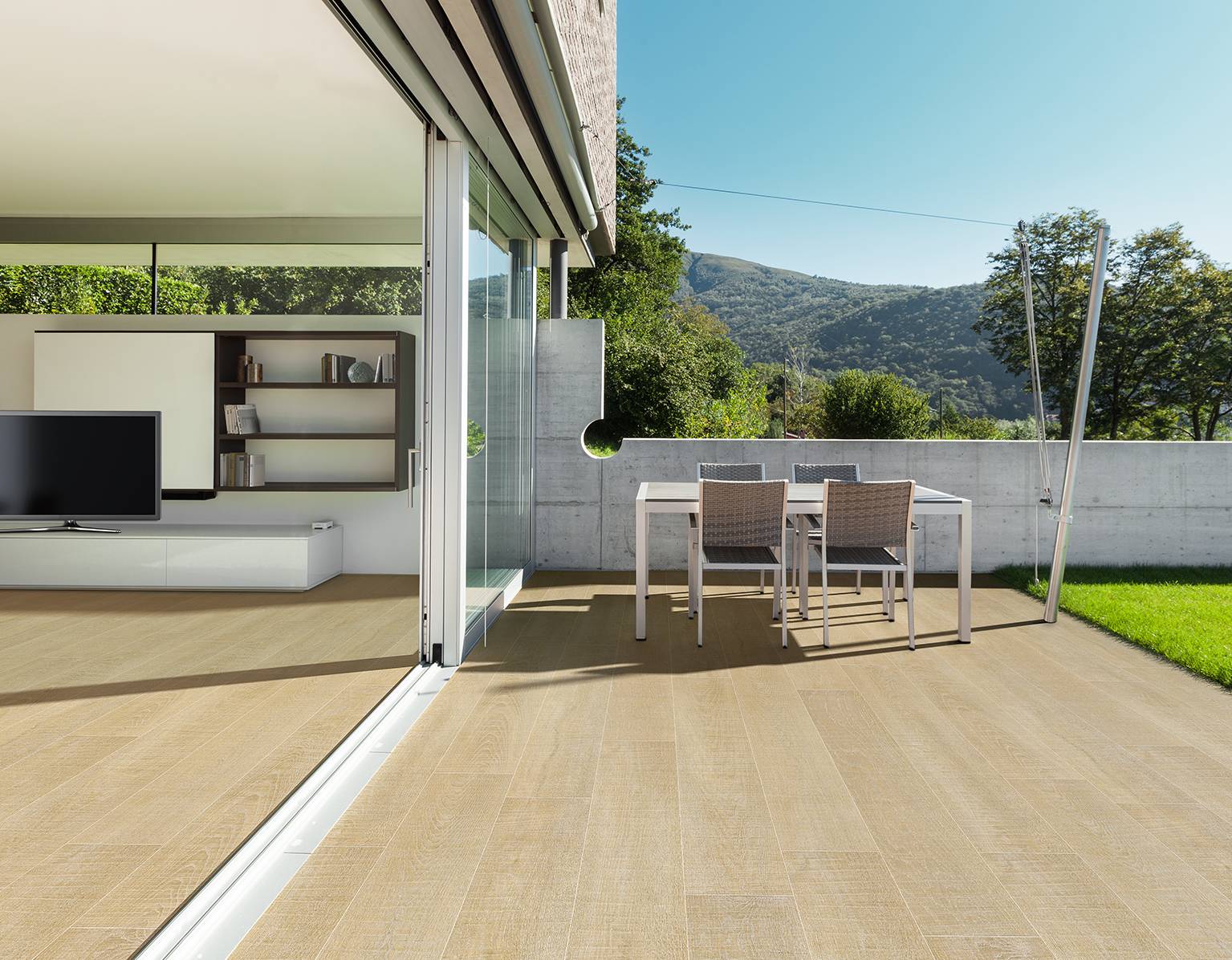 Ceramics allow the development of non-slip finishes, such as Keraben Group's ANTISLIP SHOELESS floor tiles, an excellent range of non-slip porcelain tiles with imperceptible roughness to the touch. These materials incorporate an extra-silky textured anti-slip finish for exteriors, which complies with the requirements of the Technical Building Code (CTE) and respects the designs and colours of the natural finish of the pieces thanks to its high transparency, allowing the creation of totally homogeneous spaces. In addition, maintenance is simple and it is not necessary to use specific products right from the first time cleaning the site. All the properties of ANTISLIP SHOELESS have been tested and verified by the Institute of Ceramic Technology (ITC).
Prevention: It is important to leave a joint never smaller than 3 mm to avoid problems of possible expansion or contraction in the face of heat and frost. Special maintenance with specific products is also necessary for a proper final cleaning of the work.
Cement and microcement

Cement is strong, versatile and easy to maintain. It is hardly affected by the action of the sun, so it keeps its colour. Outdoor cement floors require access for the machine needed to make them. In addition, there is a possibility that they may be cracked or broken. Also in the case of microcements, due to high temperatures, the flooring can burn the feet when exposed to the sun. In addition, its industrial-type aesthetic makes it incompatible with certain decorative styles.

Inconveniences: As continuous coverings do not have expansion joints, they can suffer from the stresses produced in the support due to temperature changes or movements in the building caused by vibrations or settlement, and can suffer from cracks or fissures. In addition, for the installation to be done correctly, it can take up to a week in the case of floors. As for the damage, the solution is not simple, as a large area will have to be fixed so that the colour change is not noticed.
Natural stone
Naturalstone is one of the most widely used options for exterior flooring, especiallyin rustic environments. Slate is often used at the edge of the pool and onterraces thanks to its waterproofing. Inaddition to the problems caused by humidity, natural stones present complicationsin their placement. As it is a fragile material, it is easy to break when it isplaced and, moreover, it is not easy to repair.

Inconveniences: The constanthumidity can cause the growth of algae and moss, as well as large spots of rustor saltpetre and lime on the natural stone. The sun also affects this material,which can alter the colour and destroy the shine.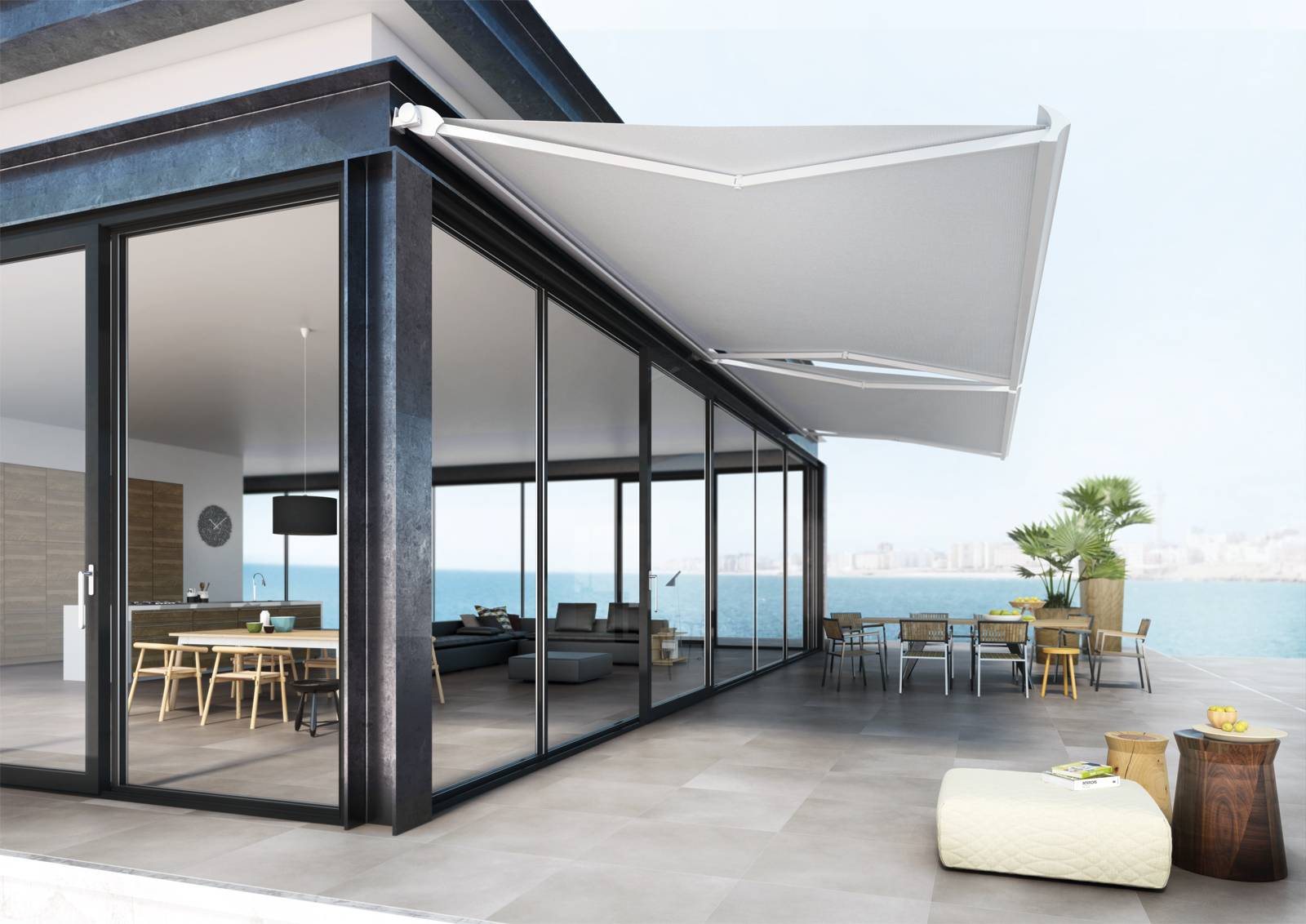 These are some of the materials most commonly used in terraces, gardens or swimming pools. Although each one has certain characteristics that make it more or less suitable to the functionality that it is going to fulfil, ceramic, due to its own nature, has become one of the most popular options to create spaces with a marked aesthetic and an unbeatable resistance. Its advantages are indisputable, its placement is adapted to the space, its maintenance is simple and its uses are multiple.