The bathroom trends that are making a splash in 2021
24 September 2021
The bathroom is the place where you rediscover yourself; a unique and intimate place that becomes a reflection of your own personality.
We realise that you know yourself better than anyone else and that you know what you want. But how do you decorate a bathroom to be a reflection of yourself and at the same time a trend-setter?
The 2020 trends were already focused on privacy, neutral colours, spa-like bathrooms with natural touches and in 2022, these trends will most likely continue to be predominant.
The time we have spent indoors during lockdown has given a new meaning to the bathroom. It has transformed it into your own personal space; that place where you can seek refuge and reconnect with yourself. Your own private retreat.
How to decorate a bathroom
Your bathroom with be a combination of elegance and design when the décor is a perfect blend of the most transcendental trends and your own personality. Turning your bathroom into a unique and personal space only requires careful attention to detail.
For example, creating synergy between the different spaces enables you to make the bathroom a single unit; an intimate place does not require partitions to conceal elements such as the shower, because the whole space is yours to enjoy in total privacy.
Combining the intrinsic naturalness of the bathroom with other natural elements, such as indoor plants, will give your space a unique and cosy atmosphere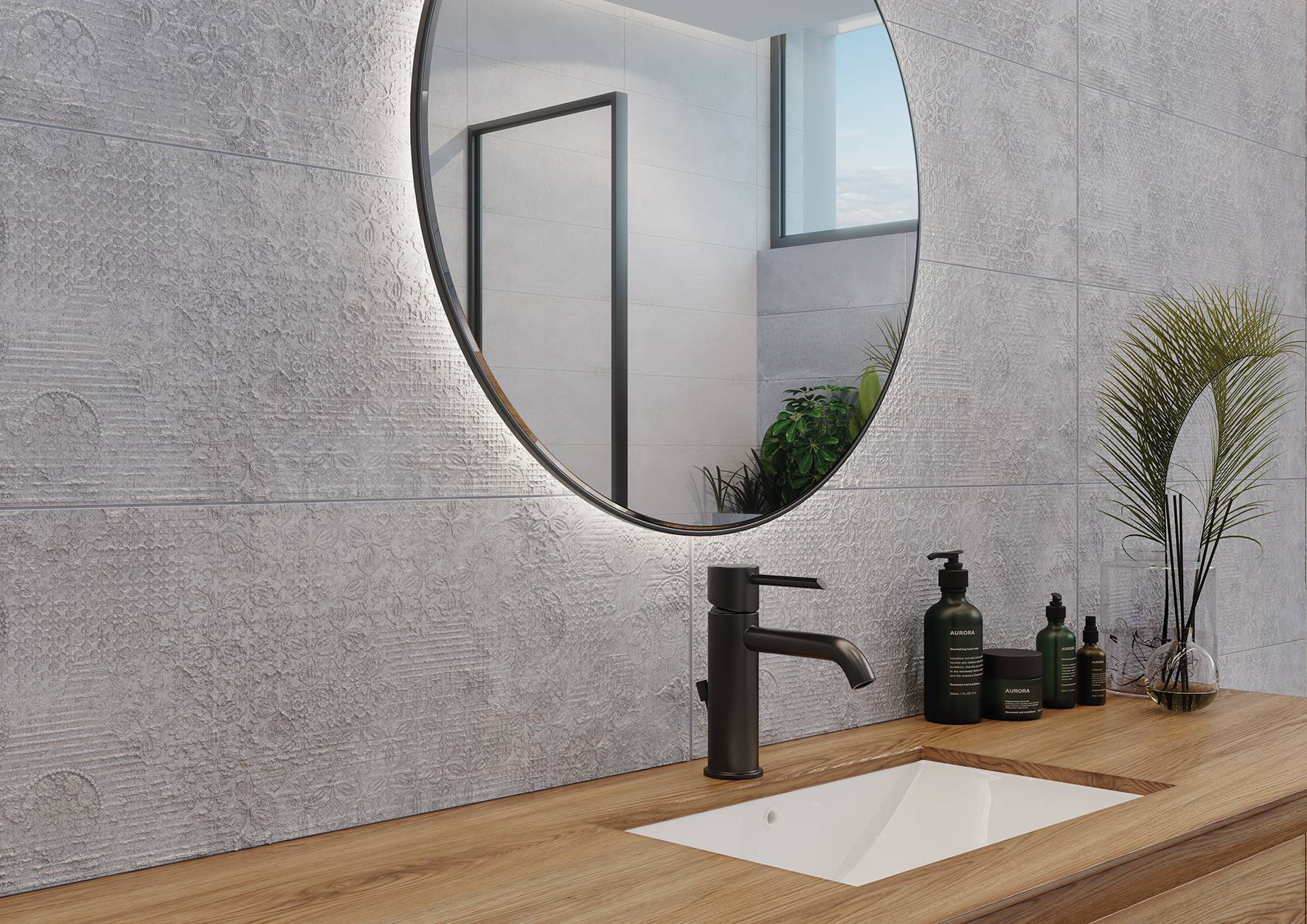 6 bathroom trends for you to decorate like a pro
To decorate an intimate space like the bathroom in a way that makes it look like it was designed by a professional, take inspiration from these 6 trends.
Large-format ceramics
Decorating a small bathroom may seem like a big challenge at first, until you discover the first trend we're going to talk about: large-format ceramics.
Large-format ceramics, such as Yera by Metropol, make the space seem larger, so the smallest bathroom looks much bigger.
Reducing or eliminating joints causes an optical effect of continuity that will create that sensation of spaciousness that you need in your small bathroom.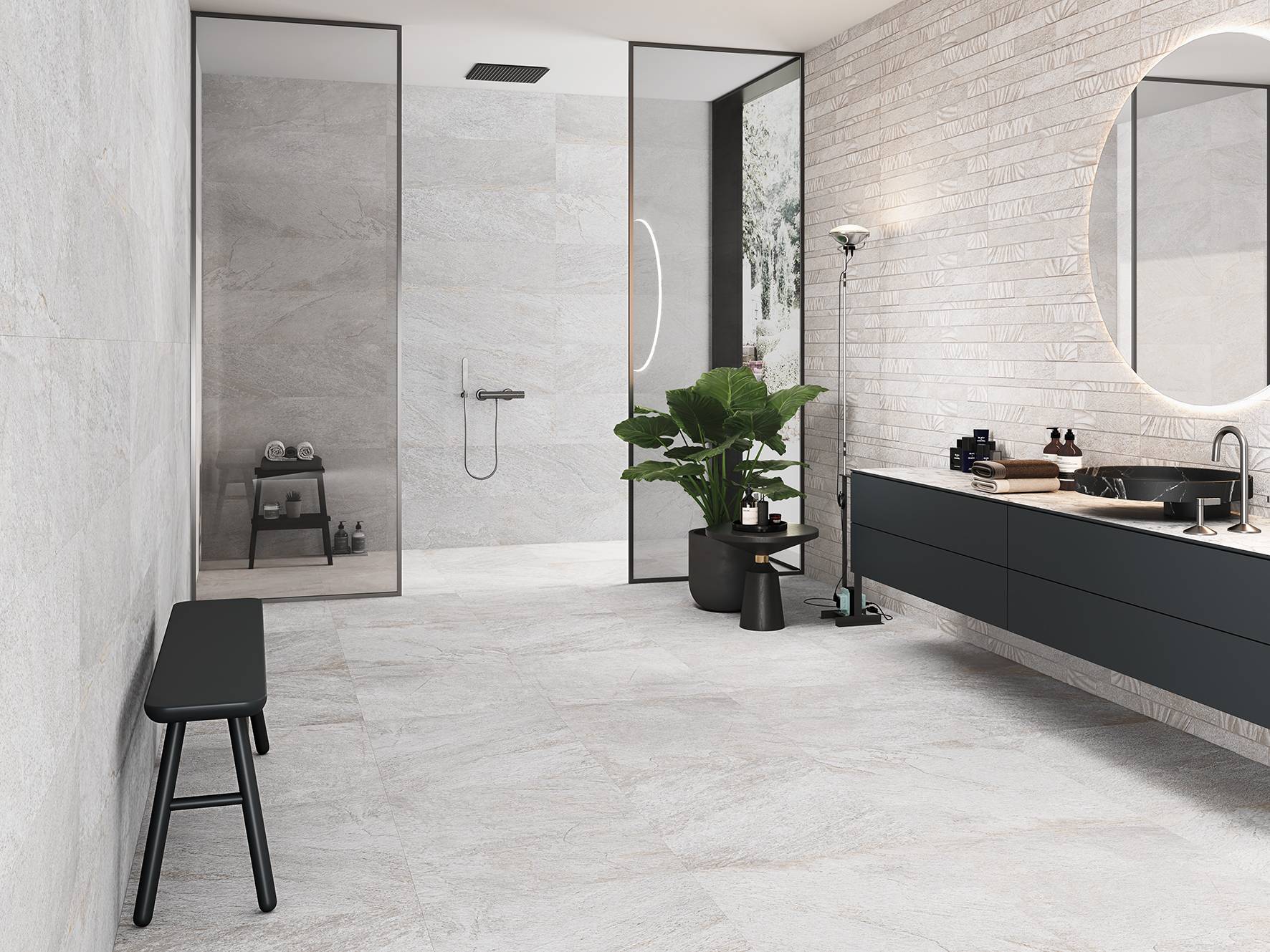 Natural touches
Plants play a leading role in the bathroom, enhancing its naturalness, as we mentioned earlier. But, if you want a bathroom that truly reflects the feeling of a natural environment, there is nothing like wall tiles inspired by nature.
Elements inspired by materials such as wood or stone, from series such as Wewood or Sunstone by Ibero, provide that relaxing organic touch to the bathroom, because there is nothing that brings a greater sense of peace than being close to nature.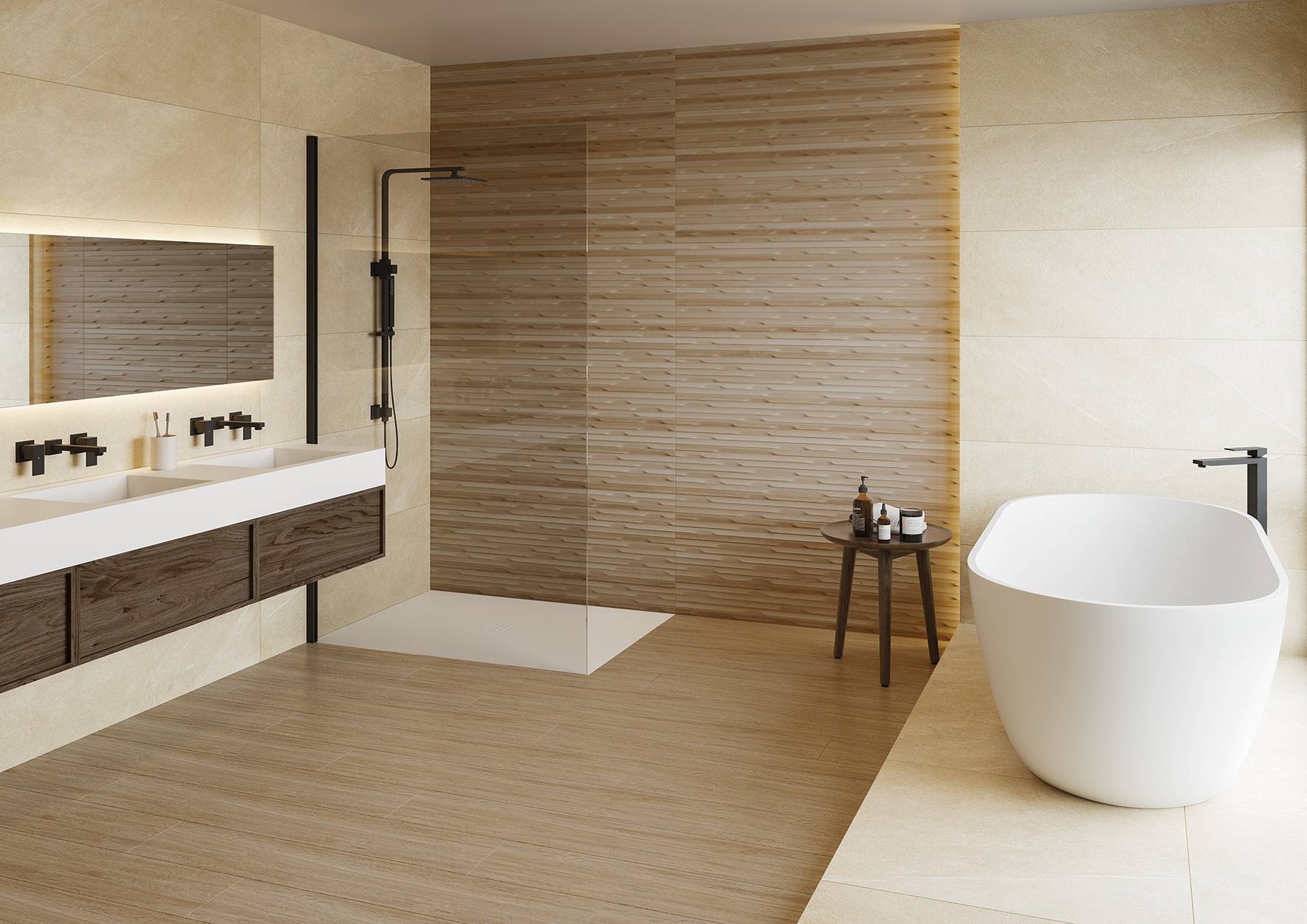 Freestanding bathtubs
Sophistication, style and relaxation come together in this bathroom decoration trend: freestanding bathtubs.
A luxury element that takes centre stage and accentuates the spa style of your bathroom.
For the most minimalist people, a bathtub with straight lines in dark tones will combine perfectly with the Cosmopolitan Beige floor tile by Metropol. A design with a marked visual identity that will give your bathroom a very personal touch.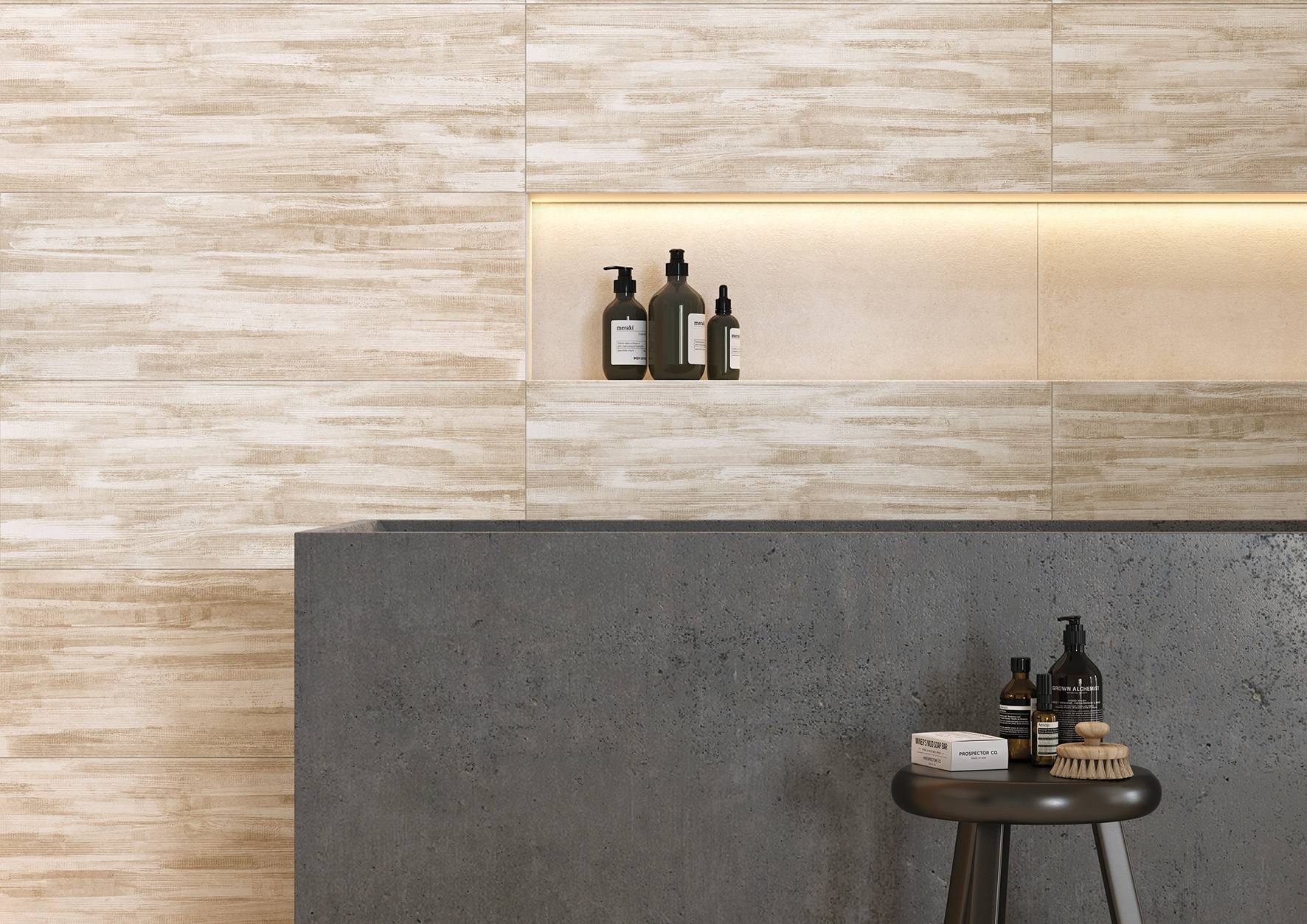 The rustic trend is back ( with a stylish touch)
The rustic trend is back, but now with a stylish touch. Just as your personality has nuances, so can your rustic bathroom.
Give your bathroom a rustic feel by choosing a floor tile such as Moka from Keraben's Naturwood series, and add a hint of elegance, warmth and naturalness to give it that touch of sophistication you like so much.
Contactless taps
The bathrooms of the future are here, and contactless taps are no longer just an ideal option for public toilets. In the intimacy of your own bathroom, you can enjoy the cleanliness, subtlety and sophistication of these taps that require no contact to operate.
The absence of physical activation allows you to combine these taps with any kind of cladding, from the most minimalist, such as Solid by Ibero, to textured options, such as the different shades of Gravity by Ibero.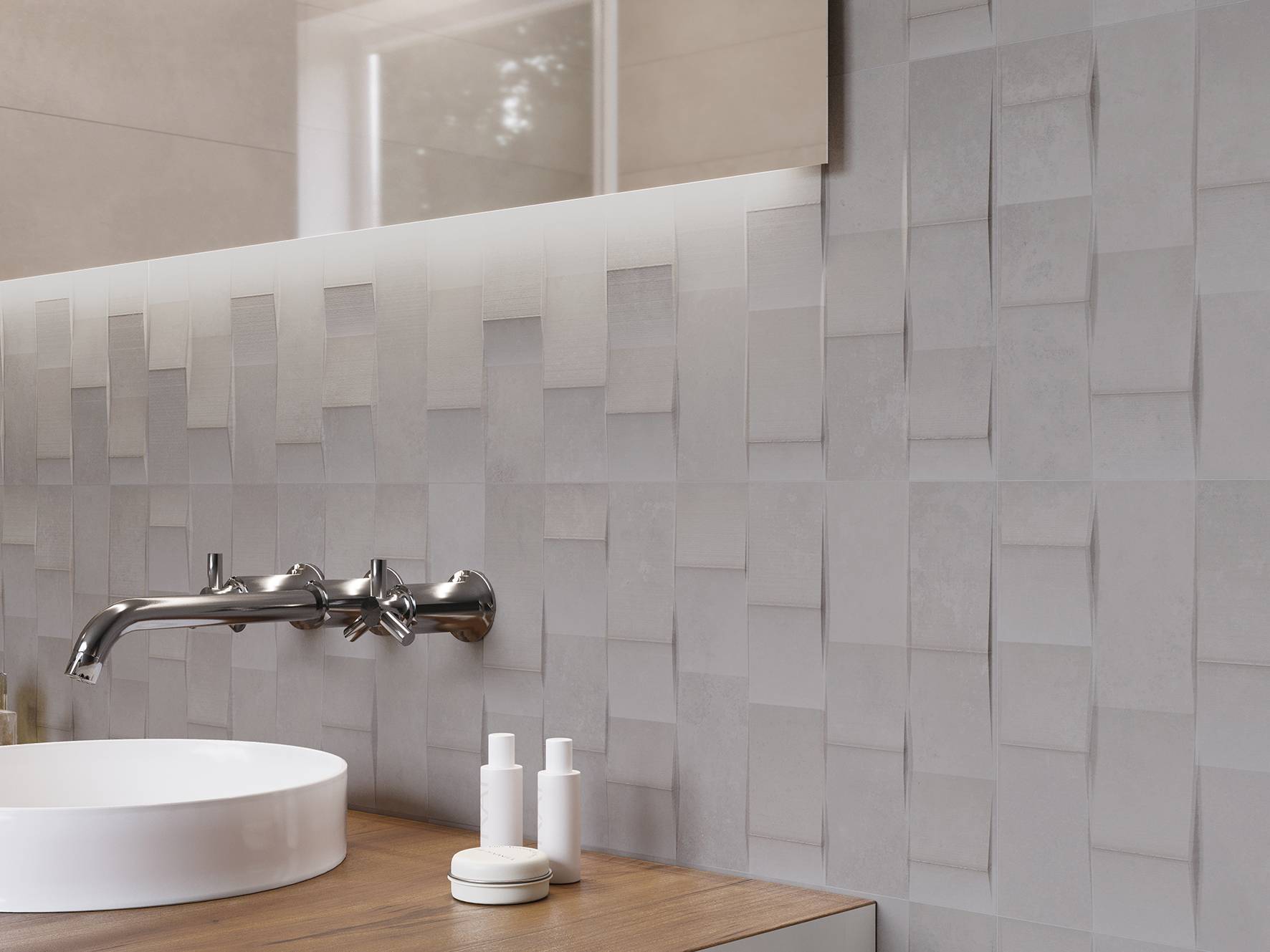 The power of hydraulic floors
Recapturing the look of the bathrooms of the past with a hydraulic floor, such as Hidraulicwood, is very much a trend. If you have a white bathroom and you want to give it a touch of vitality and a unique personality, the retro style of the hydraulic floor is the option for you.
Your personality is unique, and your bathroom should reflect it perfectly. By following these trends and adding your own personal touch, you will make your bathroom speak the same language as you do.