Guide to choosing the best ceramic finish
Equally important as the tile is the finish that tops it off. There are many different types of finishes. But when deciding which one to opt for, it's important to consider your requirements in order to combine aesthetics with functionality.
4 March 2020
Regardless of the material you choose, you should take into account the wide range of types, styles, formats and, of course, finishes. A good finish is capable of optimising—and even multiplying—the possibilities of any floor.


So, how do I choose my finish?
Some pieces have different types of finishes. In order to decide which one suits you best, you should evaluate two key factors, which are always present in interior design: aesthetics and functionality. The finish has to be consistent with the decorative style of your home. However, above all, it has to respond to a practical purpose and allow for simple maintenance. Before doing anything, ask yourself: "What do I need in this space?"
As you already know, it's not easy to combine beauty with pragmatism. For this reason, we're going to help you with a guide to achieve perfection in your house's floors and walls. Use our analysis of trends and features to choose the finish that best suits your needs.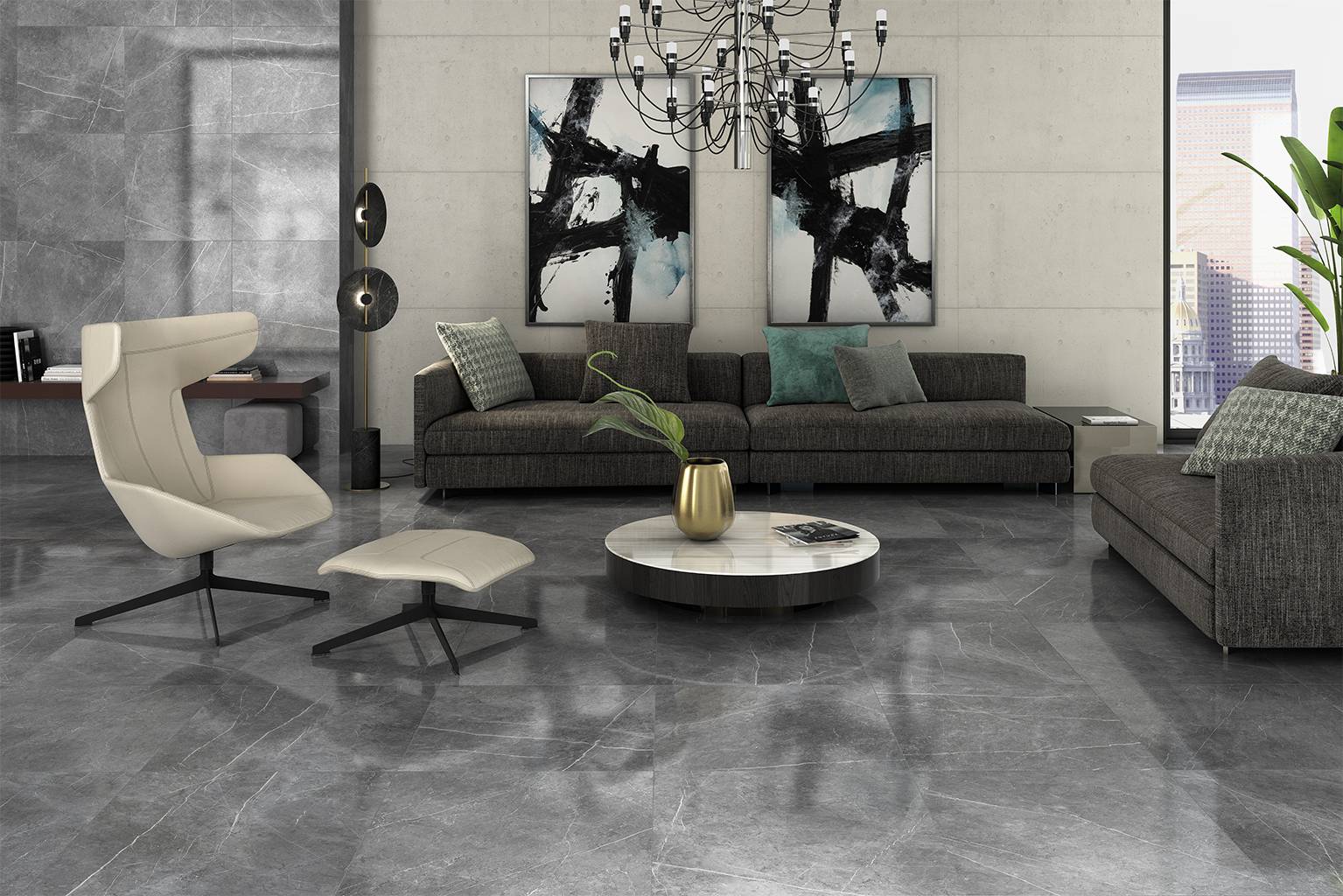 Soft finish
Use: Floor
What is it? A pumice-look ceramic that hasa silky, velvety finish to the touch.
What are the benefits of this finish? It transmits balance and makes the living room, bedroom or bathroom feel more comfortable.
An example. Inari, by Kerabenis a refined collection inspired by Iranian marble. The Soft finish lends a differential appearance to the piece, silky to the touch and with the natural appearance of marble: a material subject to wear over the passage of time, which here is always shiny.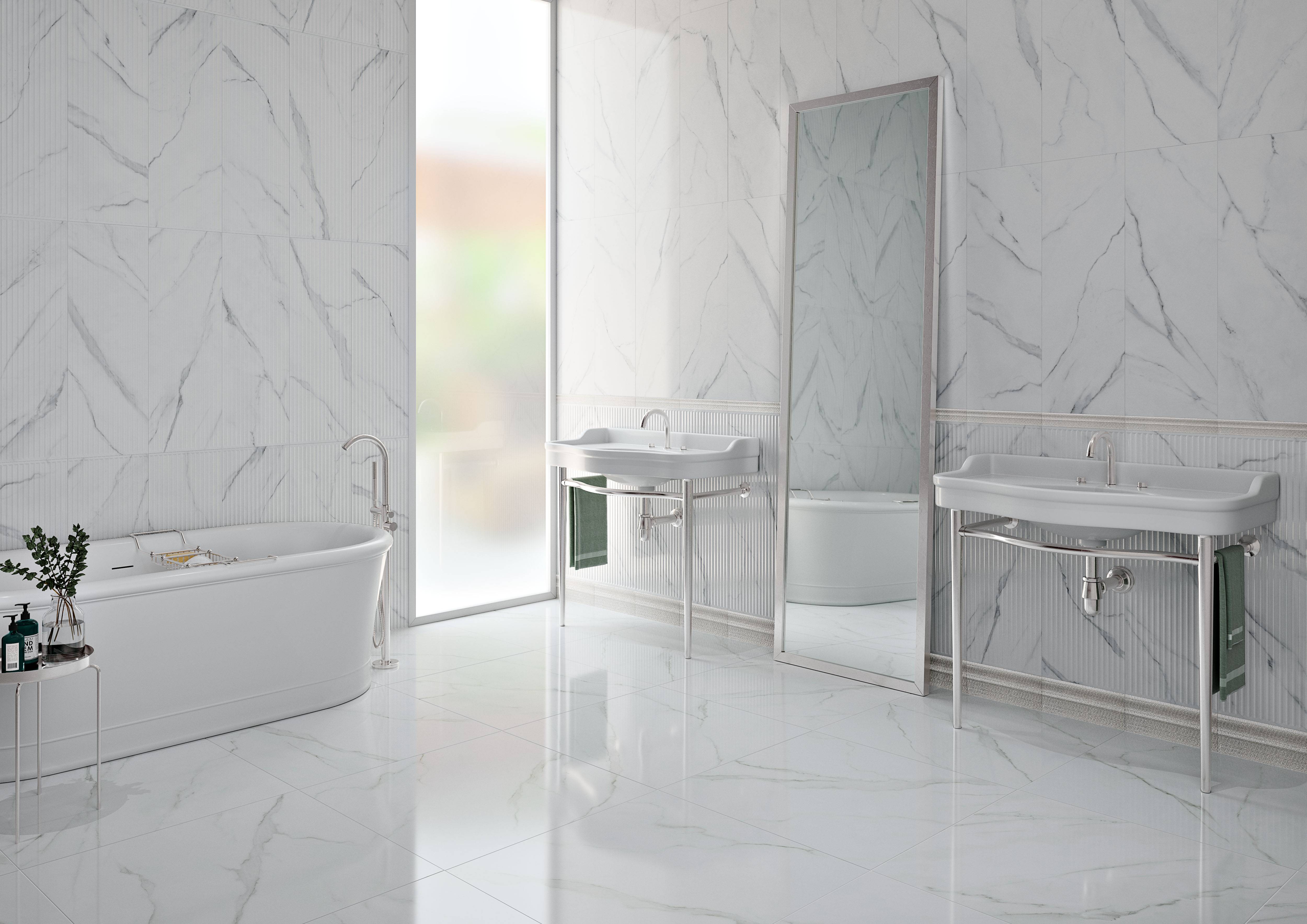 Silk finish
Use: Wall

What is it? This finish is very similar to the Soft finish, but it is used for walls rather than floors. A solution that preserves the natural look of the pieces, while achieving a silky result.
What are the benefits of this finish? Porcelain tiles evoke materials such as metal or stone, which can be naturally quite rough, and give them absolute softness within our home. The Silk finish is a fine example of this.
An example. The Marbelous,by Metropol , collection reproduces marble in an innovative way. Its pieces achieve a natural stone effect, while also transmitting cleanliness and softness, thanks to cutting-edge finishing techniques.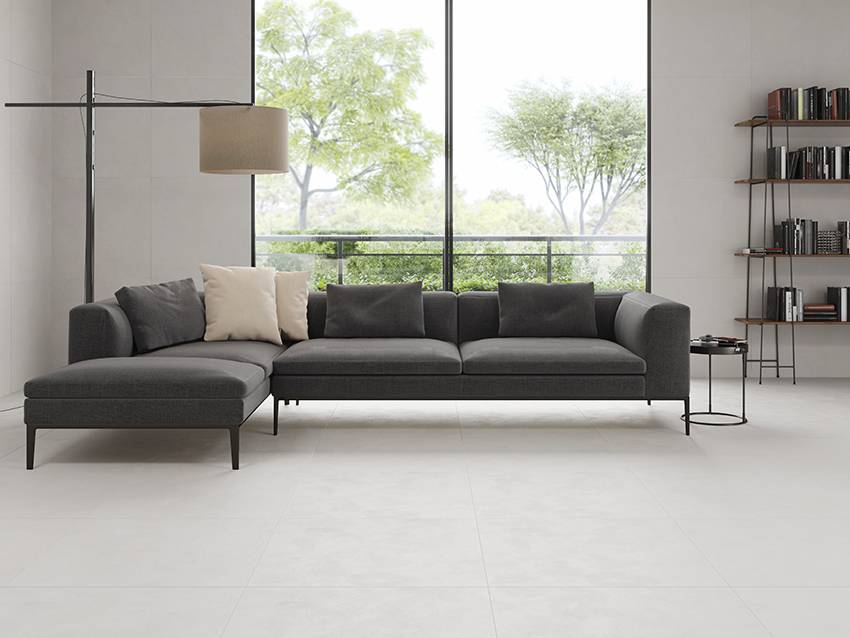 Lapatto finish
Use: Floor and wall

What is it? This has a glossy and matt finish at the same time, which is achieved by polishing the microreliefs of the piece's surface
What are the benefits of this finish? The Lapatto finish, which enhances rather than relinquishes the personality of the pieces, preserves veining and movements. The gloss lends a certain prominence to the material, conferring dynamism to the finished product.
An example. This could also be applied to Inari surfaces, the collection that was discussed for the Soft finish. But it takes on a special dimension with the Magnetic,by Casainfinita pieces, where industrial details are enhanced by brightness and movement.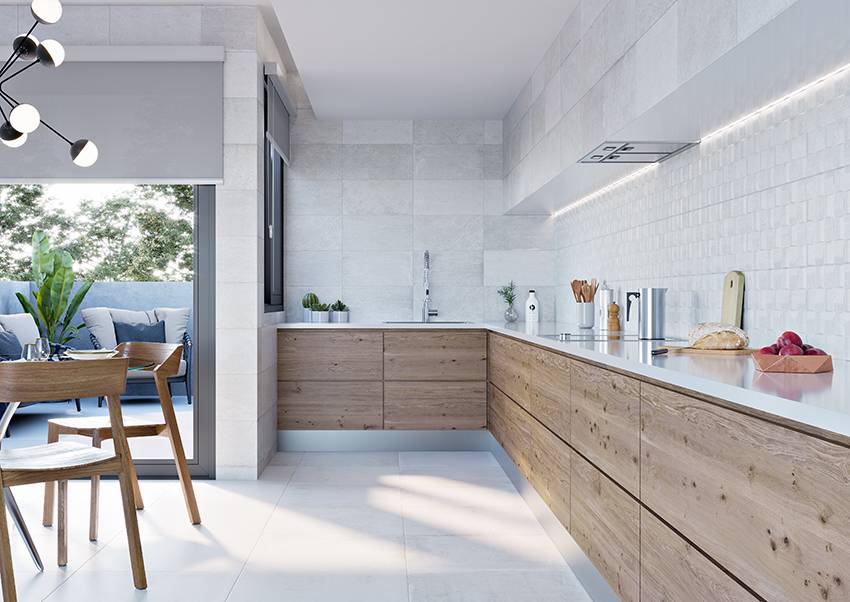 Anti-slip Shoeless Plus finish
Uso: Floor.
What is it? A finish with a very pleasant touch, which applies anti-slip techniques while maintaining the design of the finish and creating visual continuity.
What are the benefits of this finish? Absolute functionality. Despite how beautiful a smooth floor can be, some rooms require some ruggedness—bathrooms, kitchens, terraces, porches—even if this is imperceptible to the touch.
An example. The results of Anti-slip Shoeless Plus are spectacular when combined with natural styles such as Camelot, by Casainfinita. This collection simulates stone, with the texture reproducing the effect of the passage of time.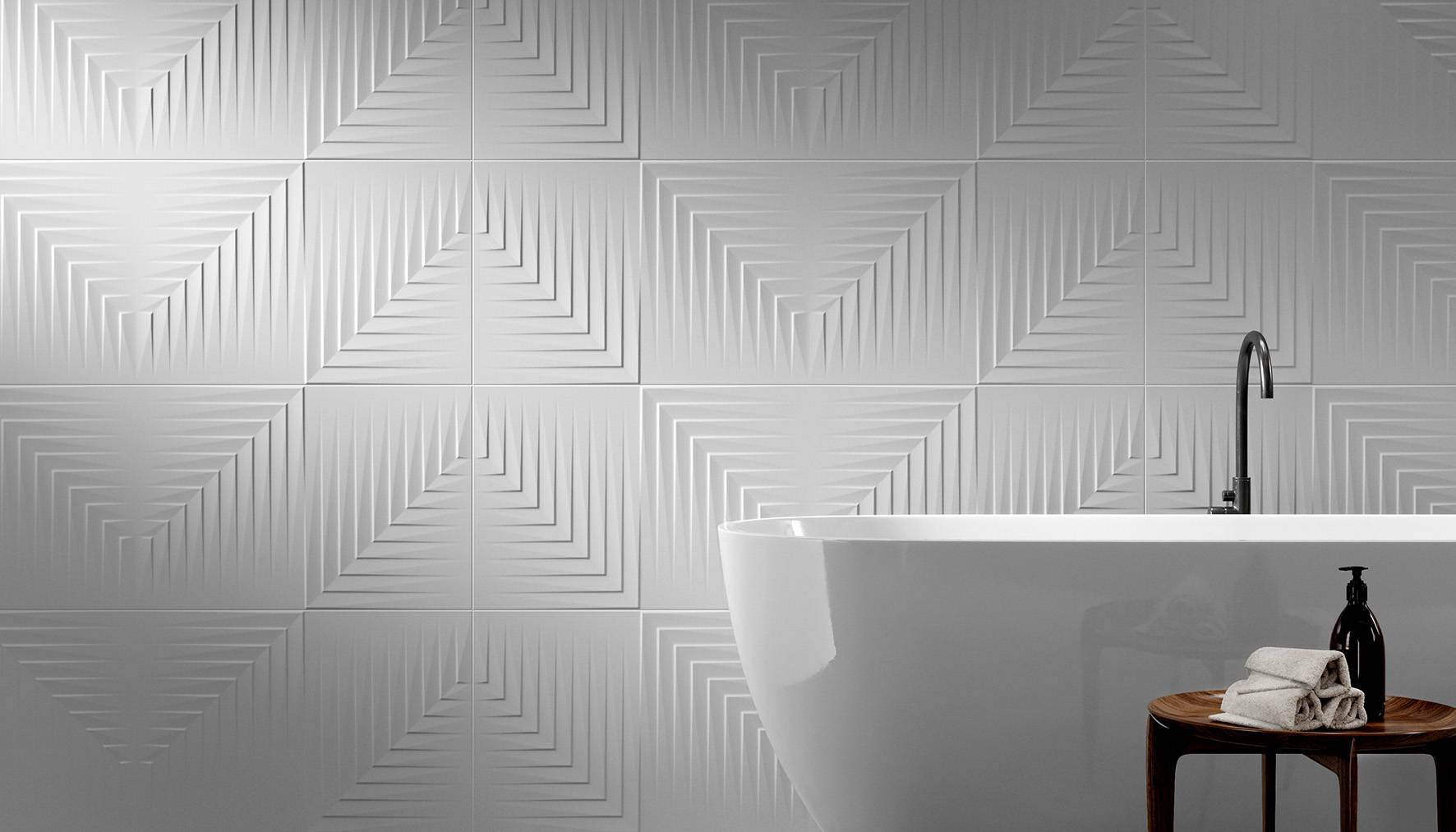 Supergloss finish
Use: Floor and walls
What is it? Supergloss is an extra bright finish, which reflects light to an even greater extent.
What are the benefits of this finish? This finish, which lends a distinction and elegance to your surfaces, is ideal for classic decorative styles, but it can also adapt to new trends in which large and shiny pieces take centre stage.
An example . Let's take a look at the Superwhite, by Keraben collection which, as its name suggests, is white. Its glossy finish is particularly noticeable on large pieces.The same occurs with Capitol,by Metropol, which is inspired by Art Deco and alsocombines multiple colours.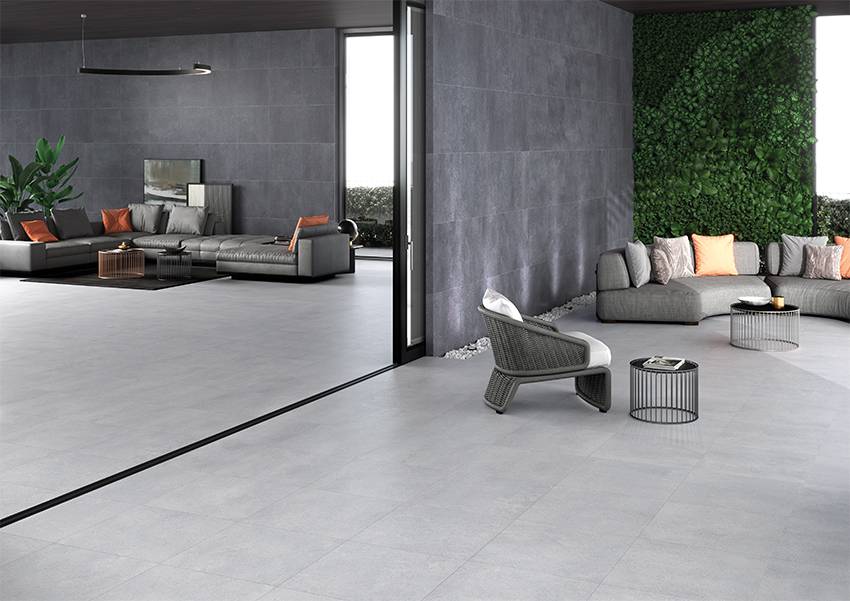 Natural finish
Use: Floor and wall


What is it? Naturalness by definition. All the design of ceramics with technical features: resistance, durability…
What are the benefits of this finish? It provides realism, such as preserving wood streaks or marble veins, while preserving the industrial vibe of cement or metal. If you're more than satisfied with the type of floor in your house and you don't want to change it much, the Natural finish is your best bet.
An example. Collections such as Aliza,by Metropol—which is inspired by limestone and subtly represents pebbles—need solutions that preserve their essence and don't distort the result. The piece is already loaded with personality.
In short...
With technological developments, brands are able to offer much more in terms of surfaces: from smooth stones to natural-looking porcelain with a shimmering glow. This is without even mentioning the more technical features, such as anti-slip surfaces. Functionality and aesthetics are both im-portant considerations to make when deciding on the best finish for the tiles in your house. Whether you like it or not, it's all in the details.