How to decorate a luxury hotel to create an unforgettable experience for your guests
28 October 2021
In luxury hotels, style goes beyond just the look and feel of a room. The interior design of a hotel creates, defines and reveals its unique and distinctive character. The décor becomes the setting within which the guests' experience unfolds.
Decorators, such as the highly acclaimed Lázaro Rosa Violán, and owners of hotel chains, such as Kike Sarasola, agree that impeccable décor leaves an indelible mark on the memory of a hotel's guests.
The boom in boutique hotels
The style and character of boutique hotels clearly distinguish them from the establishments of large hotel chains. With very few rooms (from 10 to 100), these hotels are characterised by their service, which is fully personalised for each guest.
It is almost impossible to find two boutique hotels with the same characteristics, because from the first, founded by Ian Schrager in 1984 in New York, to the last, each one has a its own unique style and design.
"Boutique hotels are characterised by their service, which is fully personalised for each guest".
Located in central areas of cities, these small hotels stand out for their modernity and character and are the best option for those who prefer a quieter and more cosy type of holiday that avoids the crowds.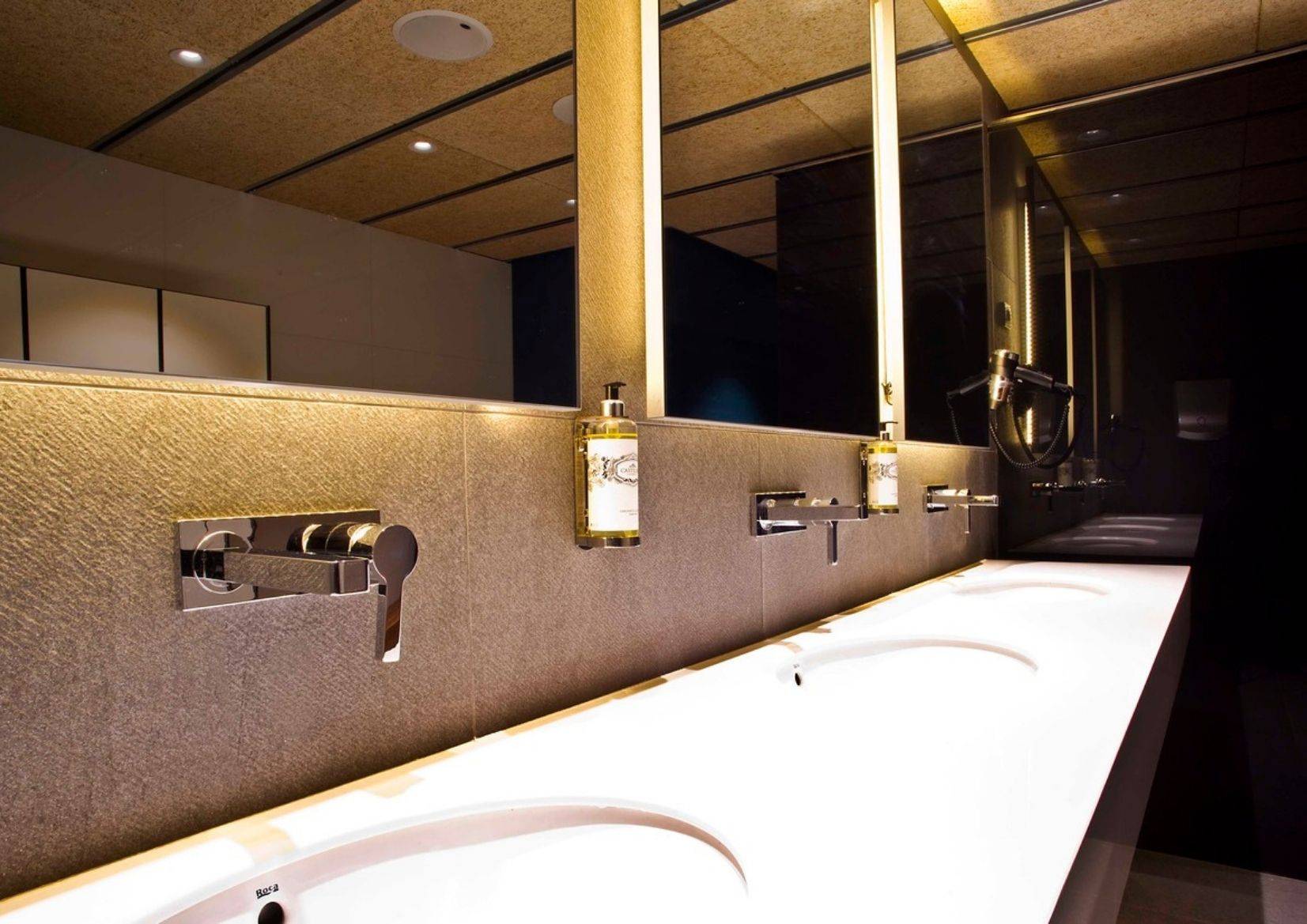 5 trends in hotel décor
Both boutique hotels and large chains aim to set trends and set themselves apart through a unique style and a design that reflects the personality of the brand to perfection.
Take inspiration from these five trends in hotel décor and have the courage to create unforgettable experiences for your guests.
Safer common areas
Experts have agreed that common areas in luxury hotels must be made safer and safer. To this end, trends are shifting towards an open-plan design that enables guests to move around freely while ensuring maximum comfort.
One of the trends for common areas aimed at the safety of guests is the redesigning of spaces and systems to allow the remote use of all necessary elements.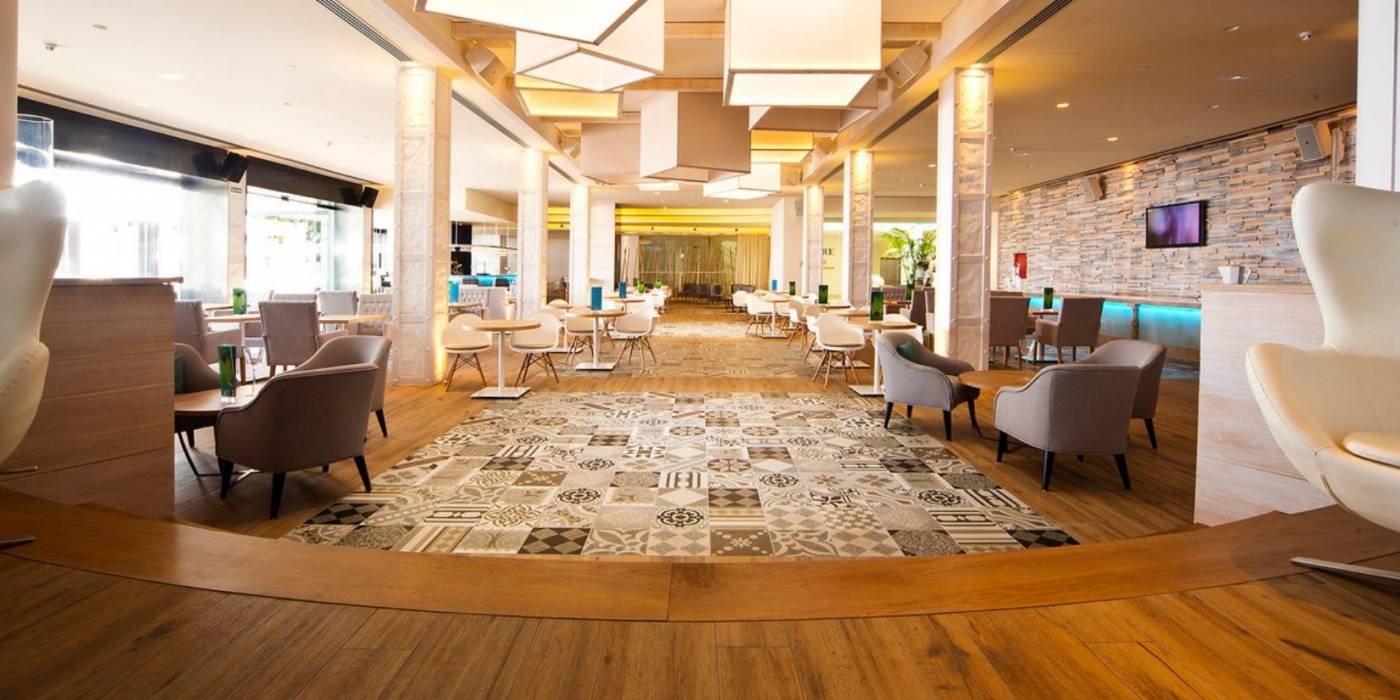 Amàre Marbella Beach Hotel (Marbella)
Two examples of this are bathrooms, where equipment is operated without touching it, and check in/out areas, which have temperature detection systems and take care of the guest by offering automated management methods.
Sustainable materials
The importance of the materials used for luxury hotels no longer lies solely in design. Aesthetics now comes together with sustainability to become the cornerstone of any choice of materials.
At Keraben Grupo, we want your facilities to reflect your personality and we know that caring for the environment is one of your key principles. That's why we reuse 100% of the water from the manufacturing process and work with 100% recyclable packaging.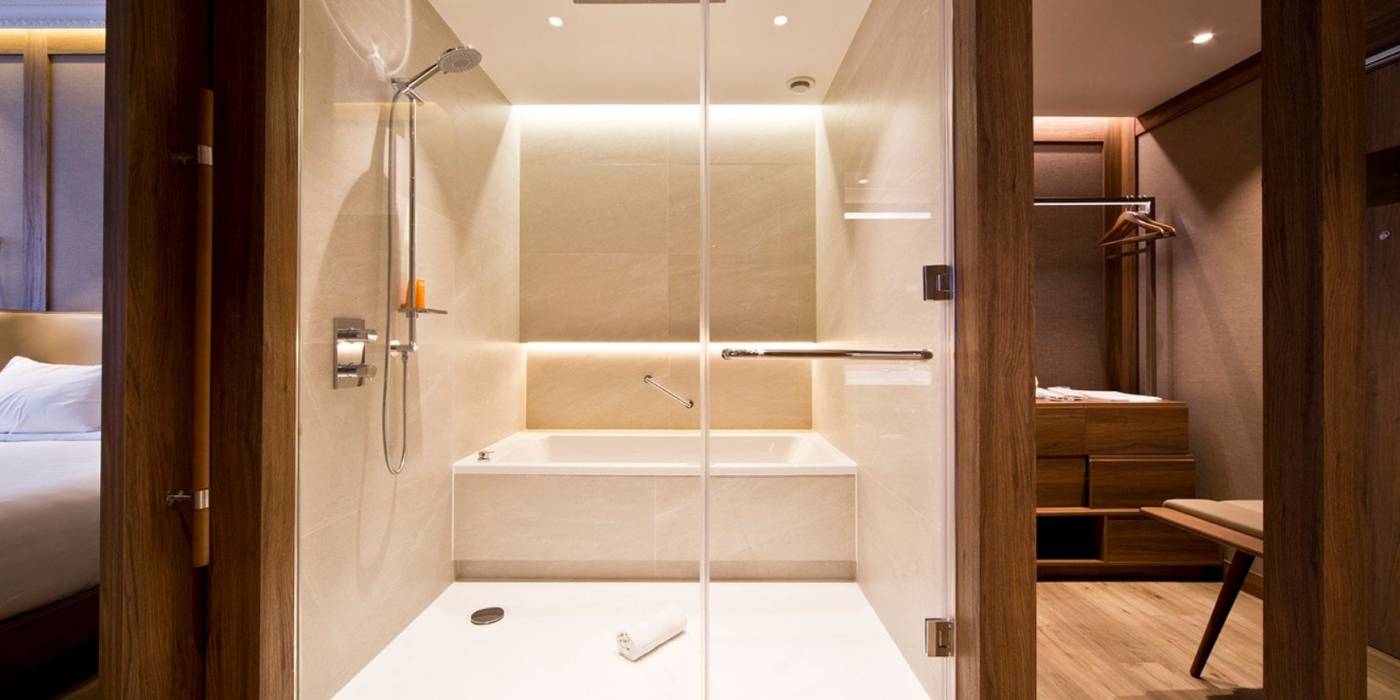 Hotel Círculo Gran Vía (Madrid)
Our ceramic collections not only have inimitable designs, but are also aseptic, long-lasting and efficient, to ensure that each part of your hotel is both unique and sustainable.
Indoor greenery is here to stay
Greenery has now become part of the interior of hotels, adding a touch of naturalness and colour to every space.
In rooms, bathrooms, receptions, bars and restaurants, plants have become decorative features, as sophisticated as they are natural, filling every corner with its own personality.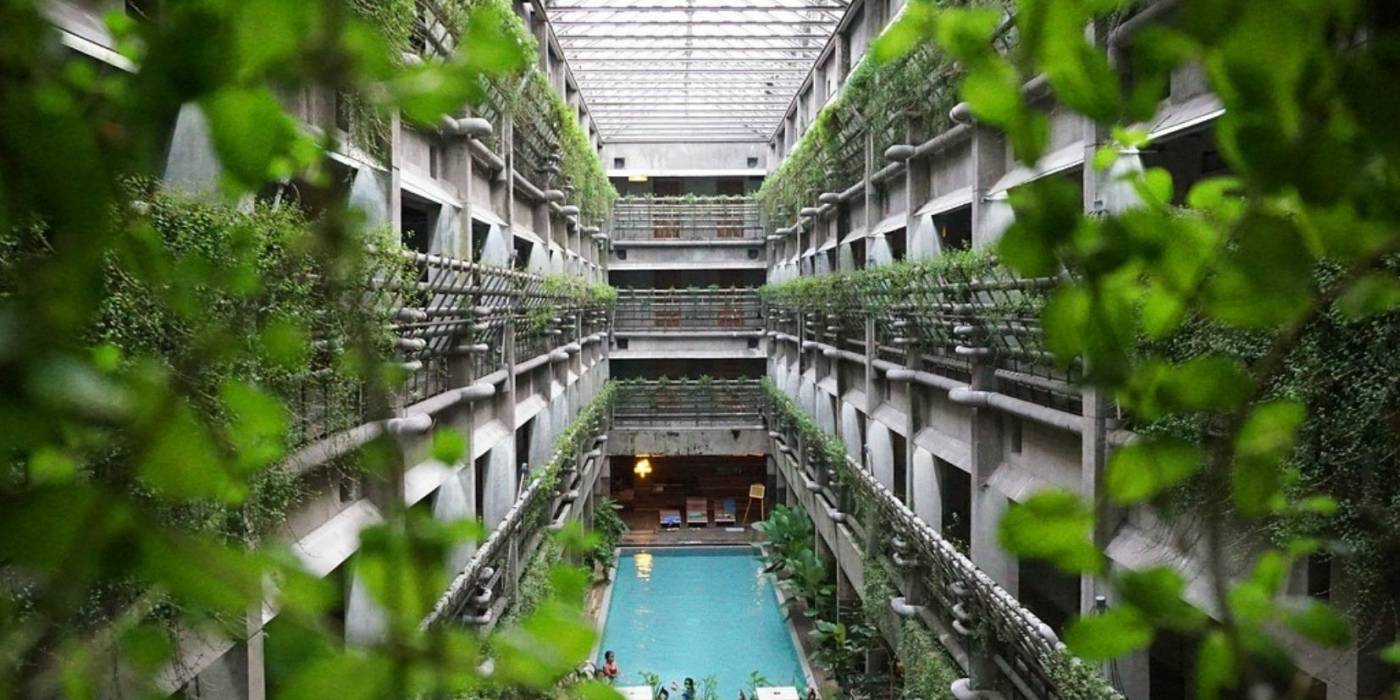 Vertical gardens, made up of moss, hanging plants and flowers, line the ceilings and walls of many hotels and, in some, they are even used as room partitions, replacing dividing walls or furniture.
Colour as a distinguishing feature
In hotel chains, colour does not only serve as a method of creating ambience in rooms and common areas. For chains such as Room Mates, colour is their distinguishing feature.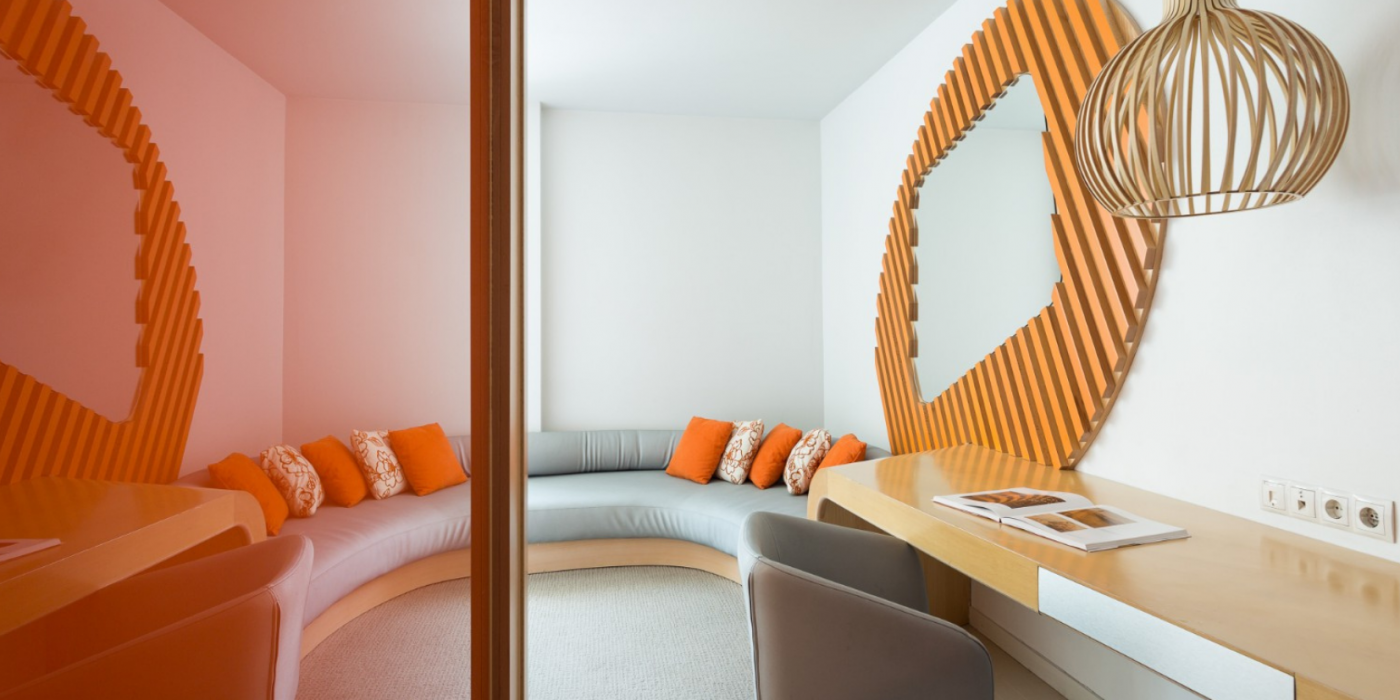 Room Mate Óscar (Madrid)
In this case, orange is a constant feature of their décor, which not only fosters associative connections between the brand and the colour, but also creates a unique experience for guests who, after their stay, will never look at the colour orange in the same way again.
Organic is making it big
Minimalism and curves have been combined to create spaces that are not only simple, but also organic. Nature is full of curved lines and the new minimalism welcomes them and makes room for them in its corners cleared of superfluous ornamentation.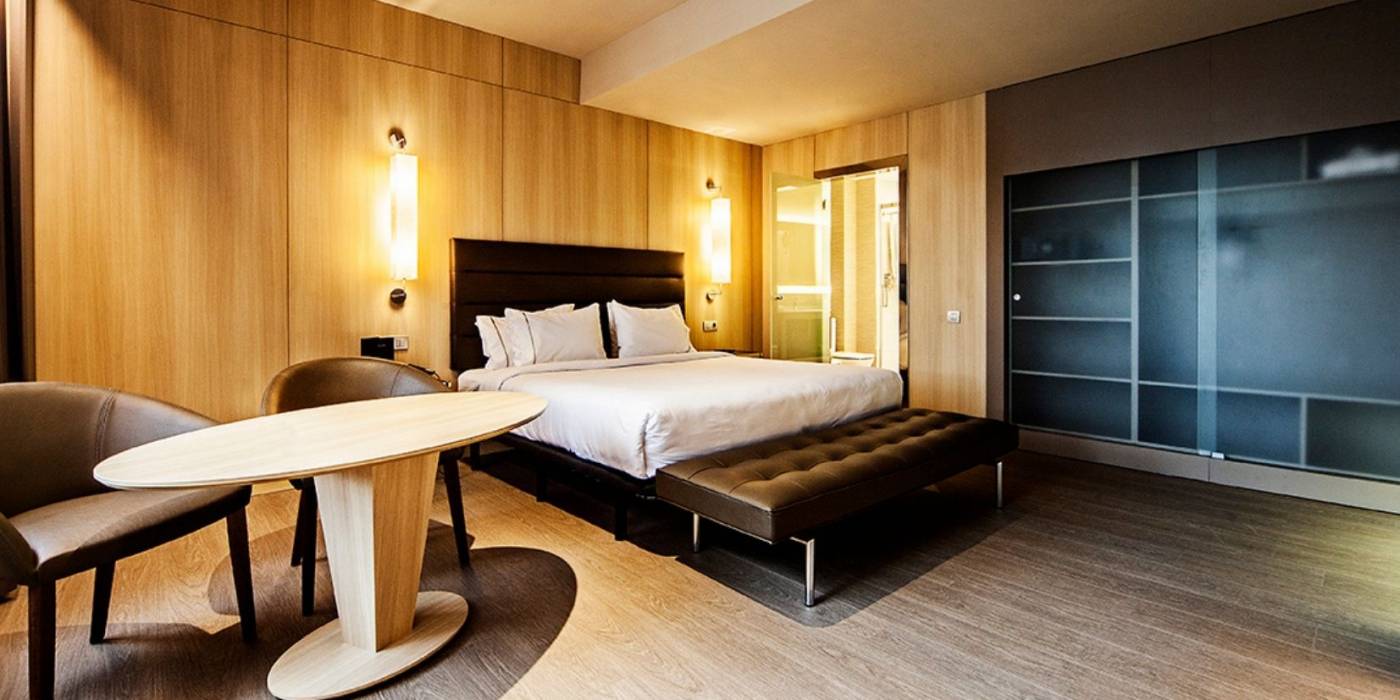 Natural light and curved lines flow throughout the hotel, creating a warm and organic experience for guests; an ambience in which natural features, present in materials such as marble, stone and plants, are combined with the ornamental simplicity of minimalism.