How to replace the headboard with ceramics
Rather than spending money on a headboard, why not goin a more original direction and take advantage of the variety of colours and textures that wall coverings can provide?
29 January 2020
A bed is your refuge that shelters you at all times, whether you are sleeping at night, resting during a difficult day or just reading over the weekend. As such, don't you think that you should consider its every little detail?
Just as you strive to choose the best mattress or find the softest sheets, you should consider the aesthetic factor as equally important.
You don't need tospend money on a huge structure, as with the emergence of storage beds and other bed bases there are now decorative alternatives which are equally as interesting, if not more so. Use original ideas to make your bedroom a more comfortable space.
Have you considered creating a headboard by playing with wall coverings? We will explain how you can do this and give you some inspiring ideas; the choice is yours.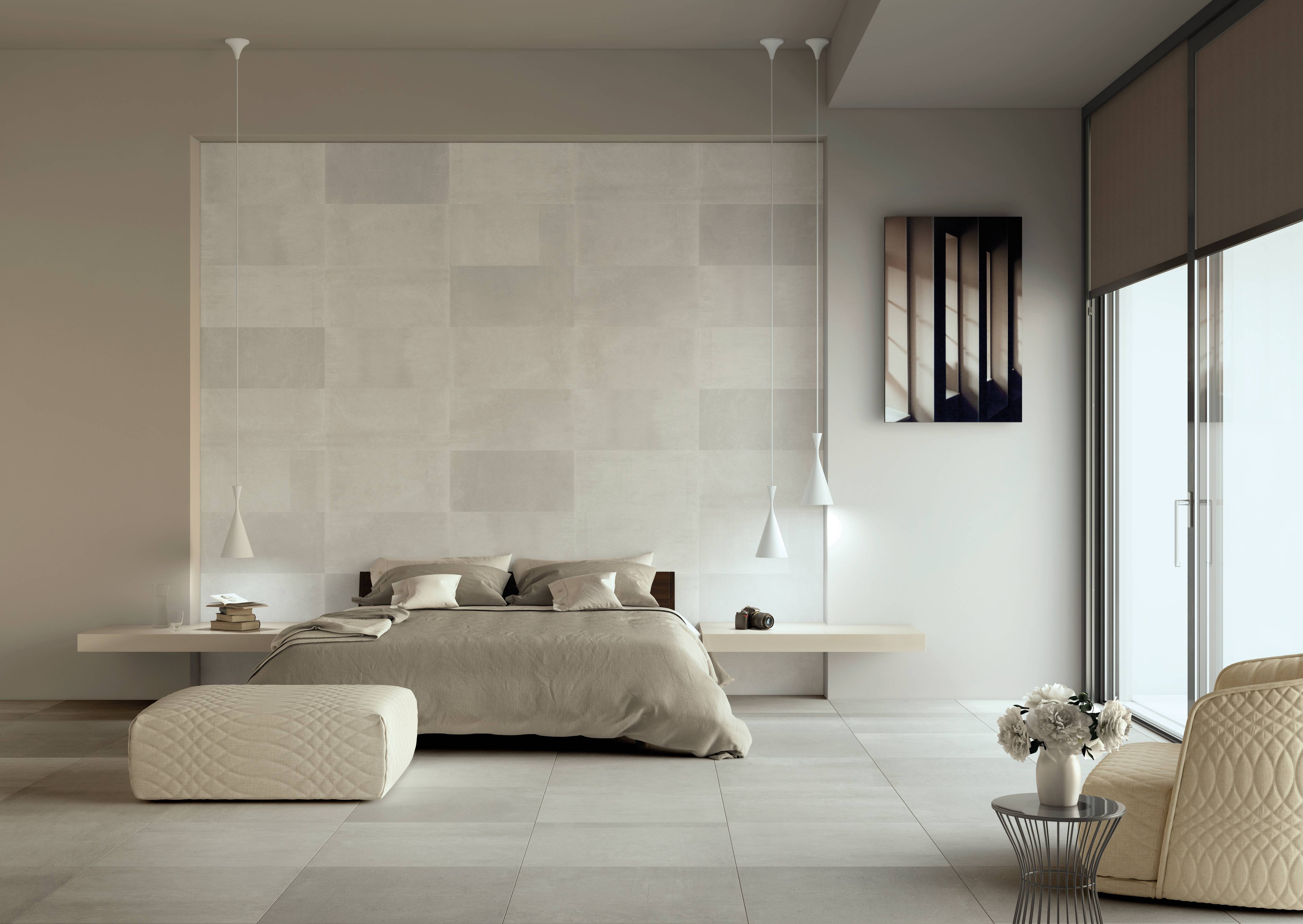 • Break with continuity. If all the walls of a room are smooth or white, by merely changing one of them you can create a contrast as well as a partition. Play with different textures, coloursor graphics on the surface above the pillows.
• So many textures, but which to choose? Again, it depends on your taste. There are finishes in stone, wood, cement, each available with stronger or lighter graphics, geometric patterns or textures. Keep in mind that the more pronounced the design is, the bolder the result will be.
•Colour is your best friend. The room could just be white with a single black wall, but there are also more delicate chromatic transitions, such as from dark beige to light beige. You can paint the whole wall or create a rectangle where the bed is placed.
•Make it the main feature. Let's say you're brave and you want to go big. If you visualise the wall as a huge mural, you can make your headboard as big as you like. This way you can turn the bed into the main feature of the room.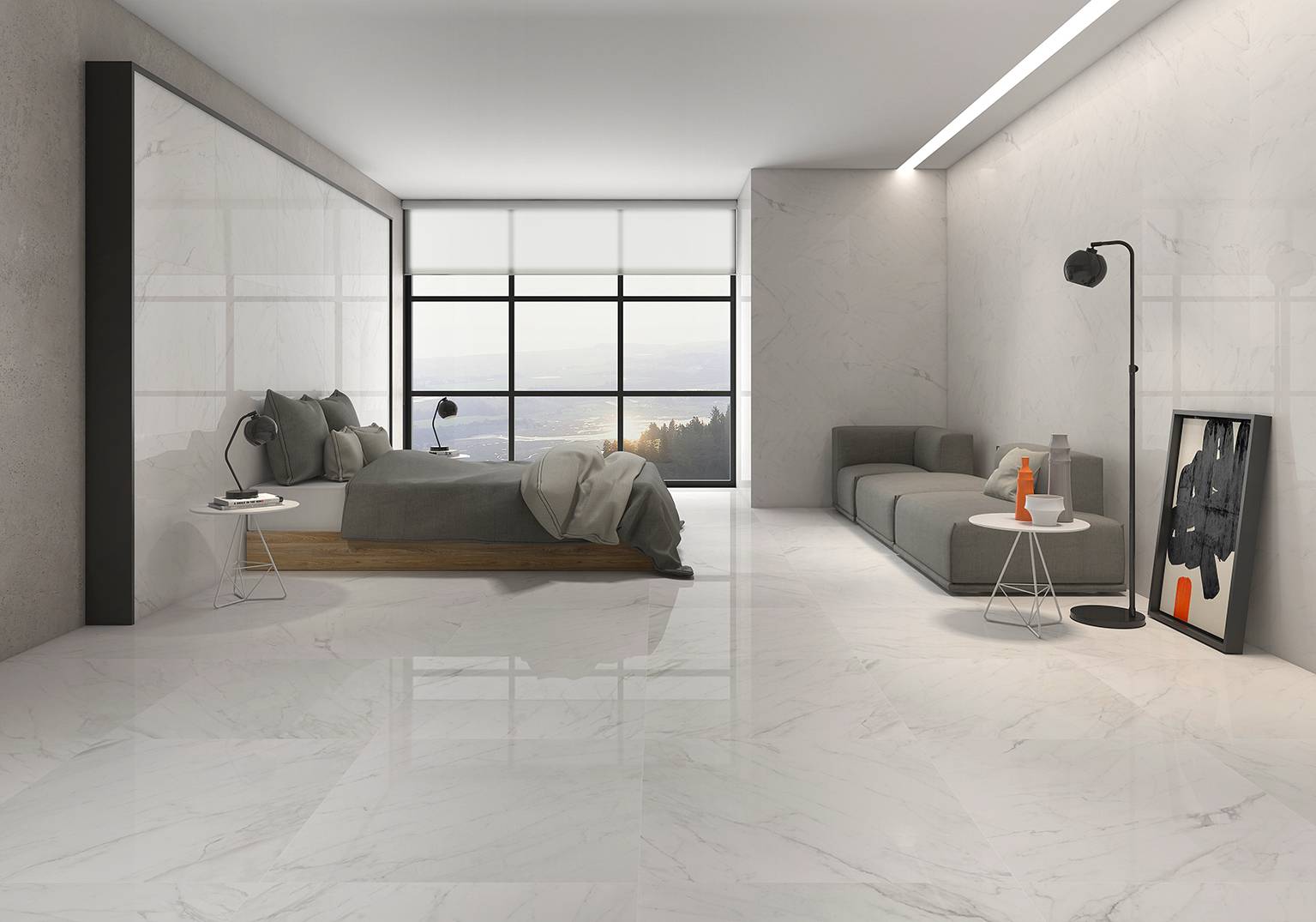 • Play with depth. In every sense of the word. To differentiate itself from the others, the wall where you place your bed can protrude more than the rest, especially if you have a spacious room, or you can create a recess instead.
• Give it a purpose. Imagine you've decided to make a wall recess behind the bed. Why not use that space to create a book shelf or another storage space? Remember that space optimisation is key in decoration.
• Change the direction. While we're playing with different ideas, altering the direction of the same graphic can create a subtle distinction. There are coverings that flow horizontally but can also be transformed vertically to distinguish a particular space.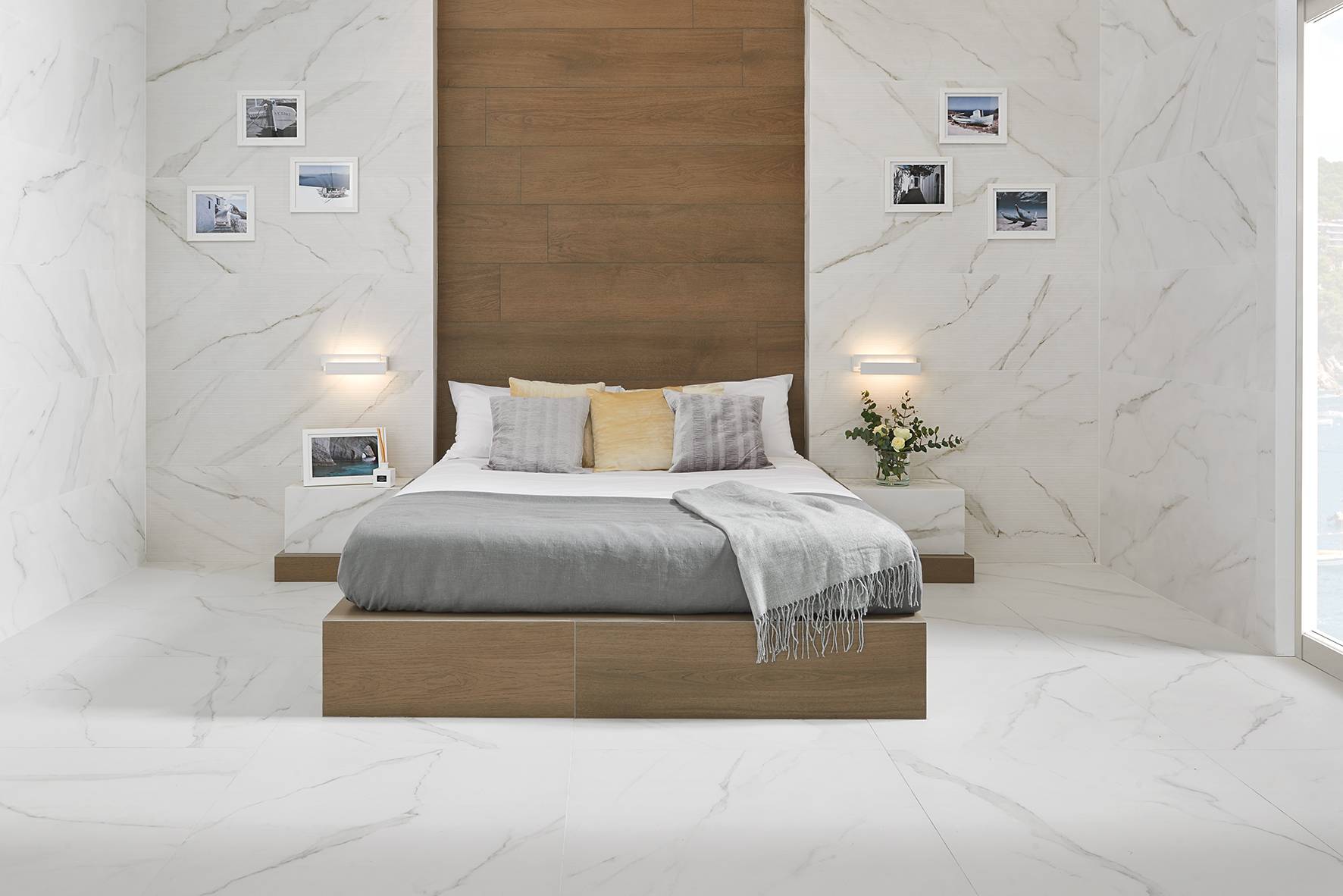 • Stone and wood. One of the most effective combinations when decorating a bedroom; nature is always the best inspiration. If you place a wooden panel on a marble wall, horizontally or vertically, you will have a headboard.
• And anything else you can think of. This is an overview of some ceramic ideas, but decoration knows no bounds. Play with textiles, incorporate pictures, or use lighting to make your bed as prominent as it deserves to be.