Latest trends in kitchen tiles
31 January 2022
Tiles have the ability to create unique atmospheres, endowing the kitchen with personality and charisma. The kitchen has evolved and design has become its most important feature in the home, its functionality (although still important) taking second place.
To get the design of your kitchen just right and to ensure that it reflects your personality to perfection, it is useful to know what the latest trends in kitchen tiles are.
Kitchen with marble-effect tiles
One of the best tile ideas for the kitchen is always marble. This timeless and classic material is ideal for those who are looking for a discreet yet elegant finish.
Marble-effect ceramic tiles are the perfect option for taking advantage of the aesthetic benefits of this material and, at the same time, eliminating annoying joints, achieving a uniform and clean finish.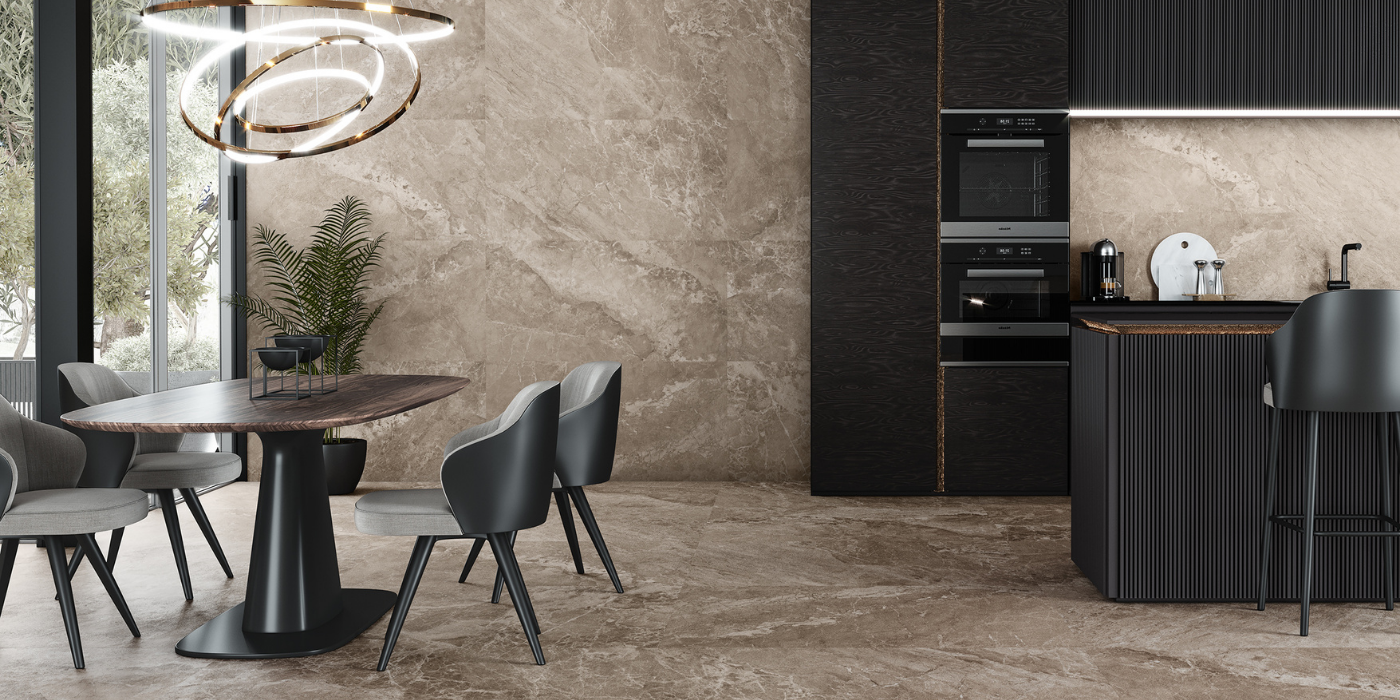 Idyllic Brecciate Vison Honed 60X120, Keraben
Hydraulic tiles
If you are a lover of the classic and vintage style, hydraulic tiles are a choice that will give your kitchen a touch of character that will reflect your personality. They are the perfect option for combining with furniture with clean lines and in a single colour. This combination of furniture and hydraulic tiles has the power to fill the whole room with personality.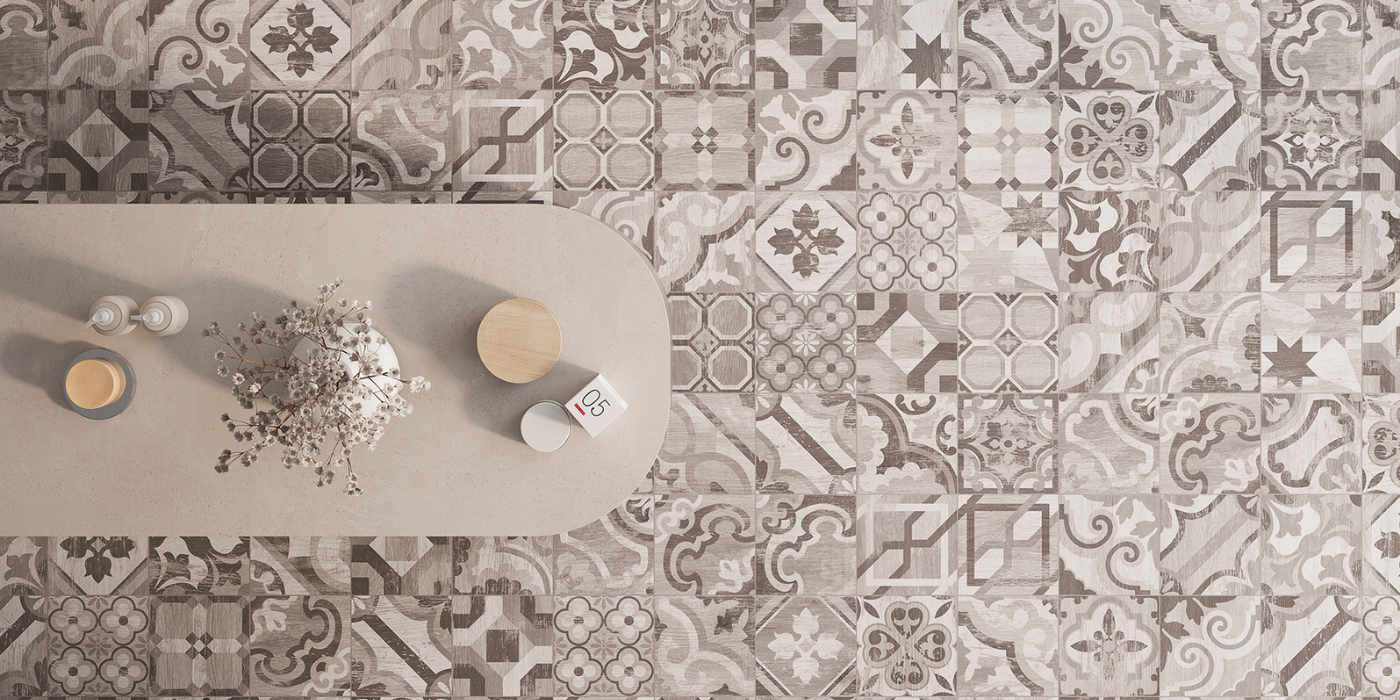 Naturwood Hidraulicwood Smoke 20x20, Keraben
Underground-style tiles
Among the trends in kitchen decoration, the underground-style tile cannot be missed. These tiles with a retro look have everything you need to make your kitchen a success.
Whether as a complete wall covering or as a plinth on the worktop, this type of tile is a real eye-catcher in the kitchen. Ideally, choose a colour that contrasts with the furniture to intensify the effect.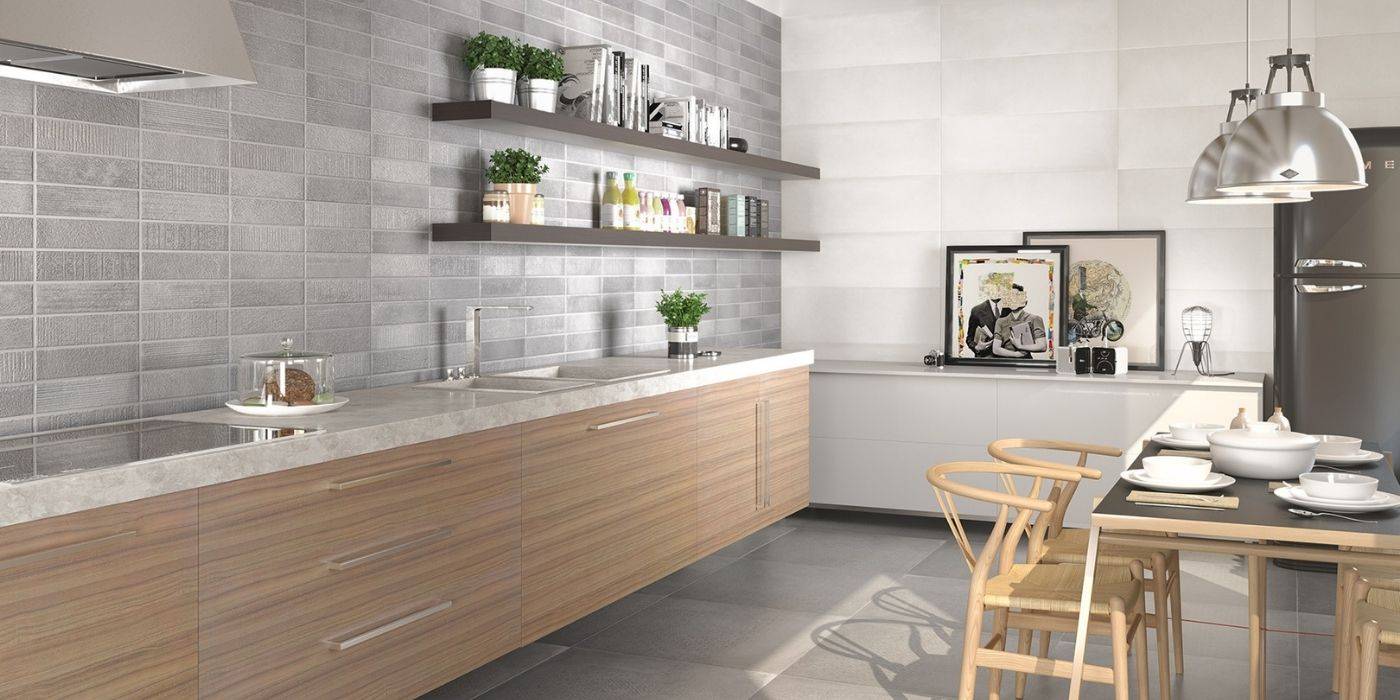 Uptown Collection, Keraben
Kitchen with cement-effect tiles
Lovers of the industrial style cannot miss the opportunity to install one of the major trends in tiles in their kitchens: the cement effect. In all varieties of grey, this type of tile, in any laying style (smooth and uniform or creating shapes), will be the perfect complement to a modern-style kitchen.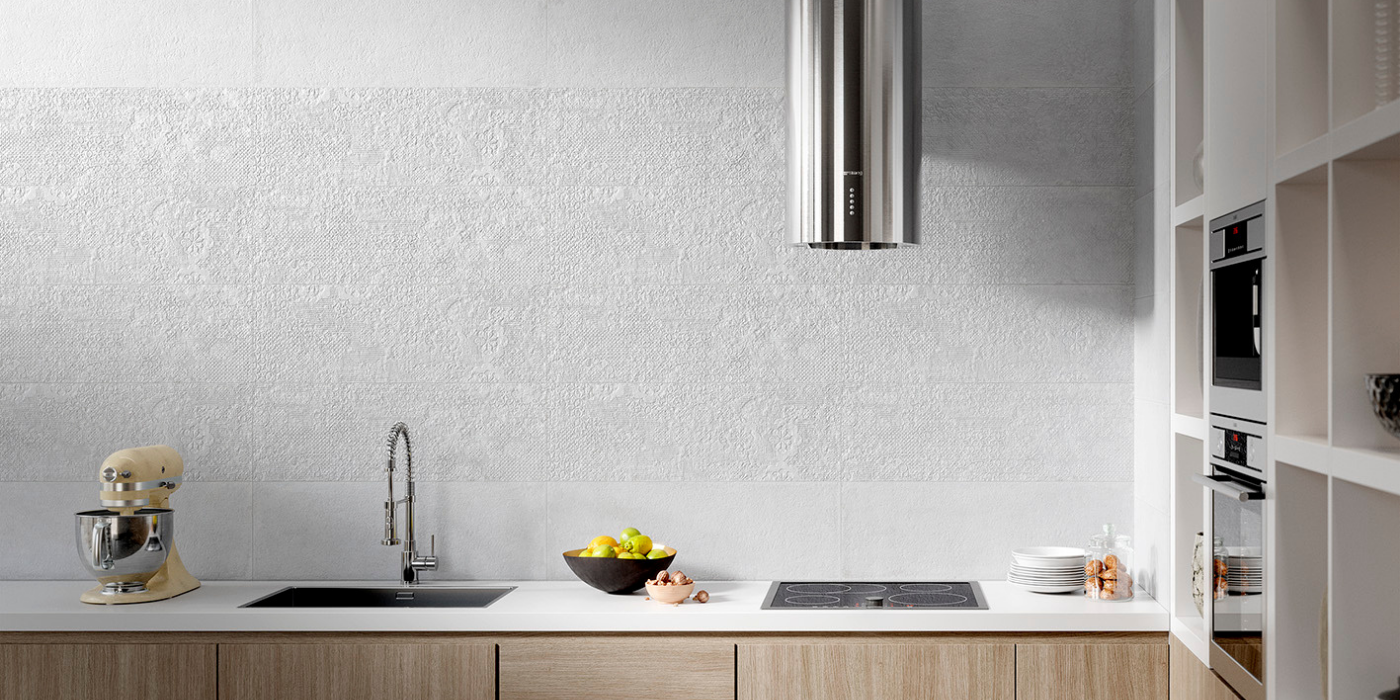 Cosmopolitan Blanco + Cosmopolitan Concept, Metropol
Kitchen with stone-effect tiles
Stone is back in fashion when it comes to kitchen tiles, and it is not surprising given the wide variety of types of natural stone that can be imitated.
This type of tile provides a warm and rustic ambience that combines perfectly with the modern style of the rest of the kitchin to create a unique contrast. Whether in large format or small format options, kitchens clad with stone effect tiles are a trend to be reckoned with.
Terranova Blanco Gris Concept, Ibero
---
FAQ's
What are the best tiles for white kitchens?
White kitchens combine with any kind of tile, from the palest ones, such as those inspired by marble, to the darkest ones, creating contrasts with the furniture.
A white underground tile will give even more luminosity to the white kitchen, while a hydraulic tile will bring dynamism and variety.
What is the kitchen trend for 2022?
Kitchen decoration trends for 2022 are based on the idea of spaciousness. Open spaces continue to be the trend, making the kitchen the social centre of the home.
Glass walls and monoblock kitchens, where elements such as taps stand out, will be the hallmark of this year's kitchen trends. And we cannot talk about the kitchens of 2022 without mentioning earthy tones, which will not be lacking.
Which kitchen colour is the most elegant?
In an elegant kitchen, black is a must, in a harmonious combination with other colours that bring light into the room. But of course, other shades such as olive green, deep blue or even white can add elegance to the kitchen.
What are the most popular tiles for the kitchen?
Kitchen tiles are a reflection of your own personality. Therefore, any of the styles we have mentioned are valid options for your kitchen, as long as the one you choose reflects your style.
Which tiles should I choose for a small kitchen?
A small kitchen requires a type of tile that gives it a sense of spaciousness. To achieve this, the most important thing is for the kitchen as a whole to remain true to a single colour palette. If you choose a range of tones, sticking to it and looking for continuity in the tiling will be the best way to bring spaciousness to the room.
How do you protect kitchen tiles?
The kitchen tile is, in itself, a form of protection for the walls in this damp area of the house. However, to provide additional protection, specially designed glass panels that are resistant to high temperatures and humidity can be installed.